The newest Esprit commercial gives a glimpse of the spectacular views residents enjoy from every floor plan, and the unique indoor and outdoor privileges that give a completely new meaning to home.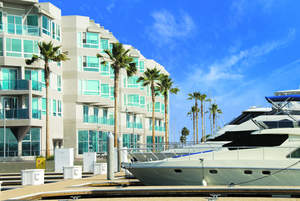 Esprit, Los Angeles' newest, most luxurious and unique apartment community, offers first class amenities and breathtaking water views from every floor plan.
MARINA DEL REY, CA--(Marketwire - September 16, 2010) - Esprit Marina del Rey, one of the most desirable waterfront apartments in Los Angeles, now offers roommate matching service ESPRIT CONNECT™. Particularly useful for those who are new to the Los Angeles area or would prefer to share the unique waterside lifestyle with someone else, ESPRIT CONNECT™ is designed to pair up individuals who tour the waterfront property that's just minutes from Santa Monica and Venice Beach.
This exclusive free service matches people across several categories, including floor plan needs, gender, age, pets and other lifestyle preferences and provides prospective renters the opportunity to make an informed decision before making the all-important decision about who to live with. ESPRIT CONNECT also performs an initial financial screening and prequalification to help ensure the online directory includes people who understand the terms of the leasing requirements from the onset.
Roommates at Esprit Marina Del Rey enjoy water views from every apartment home on the property plus countless first class amenities and indoor/outdoor activities that make life at Esprit among the most desirable in Southern California.
With Esprit's waterfront location, roommates and their guests have convenient access to a designated Water Taxi pick-up location to go out for the evening and enjoy the abundance all the restaurants and nightlife in the marina without the hassle of driving or parking.
Residents also enjoy a menu of on-site activities, including achieving personal fitness goals on a property designed for easy access to water sports. There are complimentary weekly yoga and body/core conditioning classes; a heated saline pool; free beach cruiser rentals along the promenade; and kayak storage space, Sea-Doo and other personal watercraft dock rentals on the marina.
The community provides plenty of indoor activities too: a 2,300 square foot state-of-the-art fitness center including extensive weight training and cardio equipment; a multipurpose sport court for racquetball, handball and basketball; and sauna, massage rooms and multiple spas to relax after every work-out.
Residents appreciate other first-rate amenities right at home, including daily complimentary Starbucks® coffee and newspapers at the Click Café -- an outdoor, fully-equipped poolside kitchen and bar. There's even an event room with a full kitchen; a screening room for movie and game nights; and a cozy library with marina and pool views. The property's concierge service handles everyday or special-occasion needs from making dinner reservations to party planning.
Esprit apartments showcase townhouse-style living with more than 25 floor plans -- studio suites to three bedrooms, unique live/work spaces, private balconies, rooftop terraces, lush courtyards, seven pet parks and a waterfront promenade for cycling and jogging.
Residents even have the option to pay rent online with a credit card and no service fee -- a unique offering for apartment dwellers. This exceptional perk allows residents to reap the benefits of accumulating miles, points and other rewards on their credit cards.
Esprit has apartment rentals available -- including brand new, never-lived-in suites. Visit www.Espritmdr.com or call (866) 734-0051 to book your tour.
Contact Information:
Media Contact:
Carol Soudah
The Rogers Group
310-552-4107