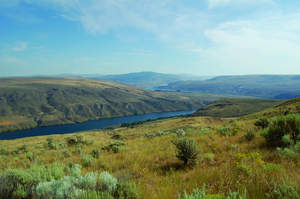 Hunt Ranch, a 15,548-acre ranch in Washington, will sell at real estate auction in 31 tracts on September 28
SPOKANE, WA--(Marketwire - September 17, 2010) - Hunt Ranch, a 15,548-acre ranch in Bridgeport, Wash., will sell at a real estate auction on September 28 at the DoubleTree City Center in Spokane in 31 tracts. The event will be conducted by J. P. King Auction Company, the nation's leading real estate auction marketing firm.
"Land is a great investment. It will always be in demand, and its availability is decreasing," said Craig King, president and CEO of J. P. King Auction Company. "This property is especially attractive because it is ideal for farming, hunting, cattle grazing or recreation, and you can buy as few or as many tracts as you like, providing the opportunity to customize your own ranch."
Wheat is currently being grown as the main crop on the farm, and Tract 20 has several barns, sheds, silos and two newly-remodeled farmhouses. Thirty of the tracts also have FSA government contracts, and qualified buyers have the option to take over the contracts.
"The property is quite diverse. We have beautiful views, large tracts of land, privacy and tranquility," said Rusty Hunt, one of the property's owners. Hunt Ranch has been in his family since his grandfather purchased it, and he and his dad have both added to the family property. "It looks over the Columbia River and the Cascade Mountains, and it features everything from flat plateaus to lakes and meadows."
The property also has a large wildlife population. Hunters can find Sage Grouse, Sharptail Grouse, Mule Deer, ducks, geese, quail, dove, Chukar Partridge and Hungarian Partridge onsite, and it is also surrounded by hunting and fishing destinations.
An auction representative will be available through September 27 from 10 a.m. to 5 p.m. for property previews. To schedule a tour, call 256.490.9966.
The auction will take place on Tuesday, September 28 at 11 a.m. at the DoubleTree Hotel City Center located at 322 N Spokane Falls Court in Spokane, Wash. For additional information, individuals may contact J. P. King at 800.558.5464 or visit the company's website at www.jpking.com.
J. P. King Auction Company specializes in high-value properties and portfolios such as luxury homes, developments, condominiums and land and ranches. The company has marketed properties in all 50 states and six countries with recent sales in Texas, Alaska, Tennessee, Oregon, Wisconsin, Alabama and Wyoming.
Keep in Touch:
Twitter
Facebook
Craig King's blog
Contact Information:
Contact:
Caley King Newberry
Cell: 256.295.3629