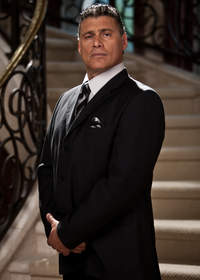 Steven Bauer stars in 'HACIENDA HEIGHTS,' new dual-language television drama series
LOS ANGELES, CA--(Marketwire - September 16, 2010) - Film star Steven Bauer, whose film debut earned him a Golden Globe nomination for his seminal portrayal of Manny Ribero opposite Al Pacino in director Oliver Stone's classic Scarface, joins the cast of the groundbreaking new bilingual drama series HACIENDA HEIGHTS, starring as the ever-ambitious mayor of the suburban enclave where the constant struggle for power, romance and wealth pit two long-warring families against one another in an epic battle for control. The announcement comes as Bauer is set to receive the American International Film Festival's prestigious Lifetime Achievement Award for his prolific body of film work on Friday, September 17. Hacienda Heights will mark Bauer's return to series television in his first recurring role since the actor's critically-acclaimed turn as Michael Santana in Wiseguy. Production on the new series began this week in Northern California, with 13 episodes scheduled to shoot on location there over the next several months.
"Having Steven on board as the mayor of Hacienda Heights takes this red-hot production to a whole new level of excellence," said executive producer Desmond Gumbs. "He is a consummate actor who inspires everyone around him to bring their best work to the set each day. In the first few days of shooting, we can already see the vision of this new series coming together beautifully, and Steven is a big part of that, along with the esteemed actor Mauricio Mendoza, Julio Iglesias, Jr. and the super sexy Vida Guerra. We can safely say that viewers everywhere are in for one of the most compelling and powerful new drama series to hit the small screen in a long time."
Recently, music superstar Julio Iglesias, Jr. joined the cast of the new weekly, one-hour, dual-language series, along with Vida Guerra, FHM's "Model of the Year" for 2004 and multiple international-issue Playboy magazine cover model. Hacienda Heights is based on the familiar and popular telenovela format, but unlike most telenovelas, the new show will be an ongoing, sprawling series aimed at a multi-season run, and will be offered in both English and Spanish-language formats which are not dubbed. Thirteen episodes will be shot for a debut in 2011. Hacienda Heights is distributed by Trifecta Entertainment & Media.
The new series centers on the trials and tribulations of the families who live, work and love in the fast growing city of Hacienda Heights. The conflicts that arise between the political factions, the wealthy dynasties and the working middle class families are universal and will reflect the times in which we live today. The stories are rich and compelling, and will be portrayed by a talented international cast led by Bauer, Mendoza and Iglesias.
Steven Bauer leapt to fame with his film debut in the 1983 classic Scarface, earning the first of his Golden Globe Award nominations. His second nomination came in 1990 for his starring role as Enrique "Kiki" Camarena in the acclaimed and highly-rated mini-series Drug Wars: The Camarena Story. Bauer made his TV series debut in ¿Que Pasa, U.S.A.?, and went on to co-star in Wiseguy, a long-running critical hit. Bauer received the Screen Actors Guild Award (Outstanding Performance by a Cast in a Theatrical Motion Picture) for his role as Carlos Ayaya in Stephen Soderberg's Academy Award-winning Traffic. A prolific actor, Bauer has appeared in more than 75 feature films, with Primal Fear, Thief of Hearts and Forever Lulu among them. The actor was born in Havana, Cuba.
Hacienda Heights is produced by Chan Add Films, and is filmed on location in and around the San Francisco Bay area. Desmond Gumbs and Dennis Ray serve as Executive Producers. The show is distributed by Trifecta Entertainment and Media.
Contact Information:
Press Contacts:

Paul Gendreau
PGPR
818-985-0245


Hacienda Heights
212-209-3950