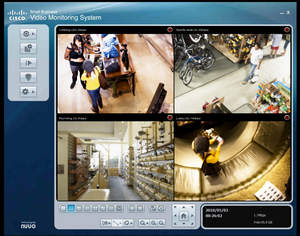 Cisco Advanced Video Monitoring System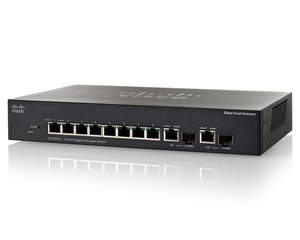 Cisco 300 Series Managed Switches
Cisco SPA300 and 500 Series IP Phones
SAN JOSE, CA--(Marketwire - September 22, 2010) - Cisco (NASDAQ: CSCO) today announced a range of new products and enhanced services and support, all designed to help small businesses grow their business, improve security, and boost performance while controlling costs. New products include a new class of Cisco small business switches to create a reliable and complete small business network, new IP phones to increase employee collaboration and productivity, and new video monitoring software with alerts to help keep businesses safe.
To help small businesses get even more from their technology investment, Cisco is also making its high-value support available across the entire Cisco Small Business technology portfolio and enhancing its small business product warranties. Finally, Cisco is continuing to invest and innovate to help its channel partners build profitable, sustainable small business practices by simplifying its Partner Development Funds profitability program and offering an innovative, personalized workspace for partners called My Cisco to help streamline business interactions with Cisco.
KEY FACTS / HIGHLIGHTS:
Cisco today announced eight new products and technologies to help small businesses manage costs, grow their business, and improve productivity.
A new generation of Cisco Small Business managed switches to help small businesses connect to global business opportunities.

Cisco 300 Series Managed Switches are a new portfolio of affordable, energy-efficient managed switches that save up to 74 percent on power; offer enhanced quality of service and security features, globalization support for languages, a lifetime warranty and advanced replacement options, and help to create a reliable, future-focused network through support for IPv6. These easy-to-set-up, high-performance switches keep employees connected to the applications needed to conduct and create a more efficient business.



Three new IP phones and a new desktop administration tool to help small businesses communicate more effectively. With these new additions, Cisco is now offering HD voice (wide-band audio) across the Cisco Small Business IP Phone portfolio

The Cisco SPA 300 Series is a portfolio of affordable, entry-level IP phones with robust features supported with the Cisco Unified Communications 500 Series and hosted IP telephony systems.
The Cisco SPA 525G2 IP Phone is a full-featured, wireless IP phone with Mobile Link, a feature that pairs with a mobile phone to allow the smooth transfer of calls back and forth, plus the import of contacts wirelessly. The Bluetooth-enabled IP phone also includes a USB port to charge a mobile phone.
Office Manager is an easy-to-use desktop administration tool, customized by the Cisco partner, which helps enable a small business office administrator or IT person to handle routine operational tasks for the Cisco Smart Business Communications System.



New video software and new cameras to help small businesses secure the business.

Cisco Advanced Video Monitoring System (AVMS) software offers easy-to-use, high-quality monitoring and control with advanced analytics for small business video surveillance deployments of up to 64 cameras. By adding licenses, the business can detect motion, receive alerts if items appear, disappear or move, and integrate video cameras and point-of-sale equipment.
The Cisco VC 220 Dome IP Video Camera provides outstanding image quality in bright and low lighting conditions.
The Cisco VC 240 Bullet IP Video Camera also provides outstanding image quality as well as weatherproof housing, making it ideal for outdoor environments.
Expanded Services and Support
The subscription-based Cisco Small Business Support Service is now available across the entire Cisco Small Business portfolio. The service delivers three years of peace-of-mind support, including next-business-day advanced hardware replacement, software updates, access to the Cisco Small Business Support Center and Small Business Support Community, and online chat support.
Cisco has also simplified and enhanced the level of warranties for its Cisco Small Business routing, switching and wireless access point. For more information, go to: www.cisco.com/go/warranty.
Partner Profitability
Cisco is streamlining Partner Development Fund (PDF) to four tracks instead of eight to help simplify the program for partners while helping create opportunities for partners to increase their profits.

To make the process easier for partners, Cisco is implementing automatic re-enrollment for eligible partners enrolled at the end of Cisco's fiscal year 2010. Also, Cisco will implement a single enrollment process so that partners can enroll in either VIP or PDF, but not both.

Cisco is making it easier for partners to do business with Cisco by fundamentally simplifying their Cisco.com experience through My Cisco.

My Cisco provides immediate access to the Cisco business applications and information that partners use most frequently to help improve productivity.
To help simplify the partners' experience, Cisco has created an integrated, personalized web page that can be customized with modules a partner selects from a new catalog to create your own My Cisco workspace.
Supporting Quotes
Ian Pennell, co-chair, Small Business Council, Cisco:
"Small businesses are working harder than ever to drive efficiency, productivity and profitability. By delivering innovative, new technology and services, Cisco is stepping up to help our small business customers meet their business objectives."

Angela Beltz-Norrie, vice president of the Cisco Solutions Group, Tech Data Corporation
"Our reseller customers -- who support a wide range of IT solutions needs among small and medium businesses nationwide -- always benefit when an industry leader like Cisco introduces a new portfolio of solutions designed for the small business market. By adding these products to their own solutions offerings, Cisco resellers will be able to provide even greater value to their SMB customers, especially in the areas of networking, collaboration and security."
Product Pricing and Availability
The Cisco 300 Series Managed Switches list prices start at $217 USD, depending on the model. Most models are available now.
The Cisco SPA300 Series list prices range from $83 to $125 USD depending on the model. The phones are available now.
The Cisco SPA525G2 IP Phone lists at $430 USD. The phone is available now
Office Manager is a no-cost download and is available only in English.
Cisco Advanced Video Monitoring System software lists starting at $1,000 USD and is available now.
Cisco VC220 Dome IP Video Camera lists at $794 USD. The camera is available now.
Cisco VC240 Bullet IP Video Camera lists at $921 USD. The camera is available now.
Supporting Resources
Technorati Tags: Cisco Small Business, Cisco 300 Series Managed Switches, Cisco SPA 300 Series, Cisco SPA 525G2 IP Phone, Cisco Office Manager, Cisco Advanced Video Monitoring System, Cisco VC 22 Dome IP Video Camera, Cisco VC Bullet IP Video Camera, small business technology, Cisco Small Business Technology Group, Cisco Small Business portfolio, small business networking, small business managed switches, small business unified communications, IP phone, VoIP, small business services
About Cisco Systems
Cisco (NASDAQ: CSCO), the worldwide leader in networking that transforms how people connect, communicate and collaborate, this year celebrates 25 years of technology innovation, operational excellence and corporate social responsibility. Information about Cisco can be found at http://www.cisco.com. For ongoing news, please go to http://newsroom.cisco.com.
Cisco, the Cisco logo, and Cisco Systems are registered trademarks, trademarks, or service marks of Cisco Systems, Inc. and/or its affiliates in the United States and certain other countries. All other trademarks mentioned in this document are the property of their respective owners. The use of the word partner does not imply a partnership relationship between Cisco and any other company. This document is Cisco Public Information.
For direct RSS Feeds of all Cisco news, please visit "News@Cisco" at the following link:
http://newsroom.cisco.com/dlls/rss.html
Contact Information:
Cisco Press Contact:
LeAnne Schrotzberger
Cisco
(503) 742-9971
lefrank@cisco.com

Industry Analyst Contact:
Laura Irwin
Cisco
(408) 853-8876
lirwin@cisco.com

Investor Relations Contact:
Matt Tractenberg
Cisco
(408) 525-3170
matthew2@cisco.com