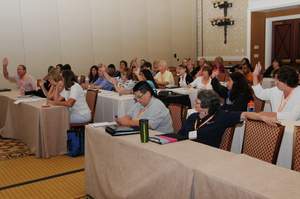 Construction professionals participate in a software training session at the Maxwell Systems 2010 Annual Conference. Several hundred contractors gathered for three days of learning and networking to help run more profitable businesses by leveraging technology.
KING OF PRUSSIA, PA--(Marketwire - September 23, 2010) - Maxwell Systems, Inc., a leading provider of complete construction business management software solutions, today announced the resounding success of its 2010 Annual Conference, held September 13-15 at Caesars Palace in Las Vegas, Nev. Hundreds of contractors gathered for valuable training on their Maxwell Systems software and to learn ways to maximize productivity and increase profitability.
"In a year where contractors are struggling to remain competitive, we are dedicated to helping them optimize their construction business management software to improve their business processes and their bottom line," said Jim Flynn, President & CEO of Maxwell Systems. "This year's conference was a huge success as our customers had the opportunity to learn from industry experts and share best practices with their peers. I believe the theme of this year's conference: 'Coming Together, Moving Forward' says it all. The team at Maxwell Systems truly believes in partnering with our customers to help them run successful businesses and realize their visions."
The 2010 Annual Conference featured many training and networking opportunities for the attendees, which included construction company owners, presidents, managers, accounting staff, project managers, IT managers, and estimators using Maxwell Systems solutions, including ProContractorMX™, American Contractor™, Management Suite™, StreetSmarts®, and Estimation®. Attendees were able to take advantage of more than 130 educational sessions and hands-on labs, as well as participate in one-on-one consulting sessions and peer networking opportunities.
The positive response from the attendees was tremendous:
Sally O'Brien, HR Manager, Browning Contractors, Inc., said, "The classes were informative and the speakers were knowledgeable. I loved how quickly my questions were answered by very helpful and eager Maxwell Systems employees. We really felt supported and came away with some new processes that I am looking forward to putting into practice as soon as possible. The ability to network with other users is invaluable and the labs and one-on-one sessions provided an excellent opportunity for us to cement the classroom learning. The [conference] provided us with many practical ideas that once implemented will save us time, money, and frustration."
Kelii Kauka, Project Manager, Keeno Farms Construction Co., Inc., said, "Thanks for a great conference. Our first session was a lab and we learned some valuable information with the [Maxwell Systems] software and it also reaffirmed that we are not only doing things properly, but have the best tools to get our job done. The entire event was a success."
Paul Jackson, CPA, Chief Financial Officer of UHL Company, said, "This was my company's first Maxwell Systems Conference. I was very impressed with both the organization of the conference and the quality of the content. Without question it surpassed my expectations. The openness and access to Maxwell Systems' personnel reassures us that [they] listen to their users."
Rosemary Shubert, Financial Officer, Hladky Construction, said, "It was great! The one-on-one [consultation] fixed a major problem we were having, and I have also implemented two items first thing [returning to the office]."
According to Paul Rodriguez, President, Rodriguez Mechanical Contractors: "The instructors were awesome and patient. I will plan to attend again."
Debbie Ray, Office Manager, Rountree Plumbing/Heating, Inc., said, "What I found was a great group of people with some of the same thoughts, questions, and comments that I have regarding [my Maxwell Systems software] along with solutions to some of my concerns. I found the overall experience to be very informative and will definitely look to attend again."
"Our conference is designed exclusively for Maxwell Systems customers and so we tailor program content to provide attendees with content that's proven to be extremely valuable," said Bob Hodges, Vice President of Customer Services at Maxwell Systems. "The event is a powerful way to connect our customers' knowledge needs and requirements with the training, guidance, and resources to fulfill them. It's also a refresher on the services, training, and support that's available to them year-round as partners with Maxwell Systems."
ABOUT MAXWELL SYSTEMS
Maxwell Systems is a leading provider of complete construction business management and property management software solutions and services. Founded in 1975, Maxwell Systems is dedicated to helping its 10,000 customers streamline their estimating, job cost accounting, and project management processes and improve profitability. To deliver true end-to-end control of critical business processes, the company's product offerings include: ProContractorMX™, American Contractor™, Management Suite™, StreetSmarts®, and Estimation®. To further help customers grow their business while maximizing the return on their technology investment, Maxwell Systems provides comprehensive support and maintenance, training, and consulting. The company's headquarters are in King of Prussia, Pa., with offices in Baltimore, Md., Fort Collins, Colo., Santa Cruz, Calif., and Sarasota, Fla. More information is available at www.maxwellsystems.com.
© 2010 Maxwell Systems, Inc. All Rights Reserved. Maxwell Systems, ProContractorMX, American Contractor, and Management Suite are trademarks and Estimation and StreetSmarts are registered trademarks of Maxwell Systems, Inc. Other trademarks are property of their respective owners.
Contact Information:
Media Contacts:
Andrea Frassoni
Maxwell Systems, Inc.
800-688-8226, ext. 1240