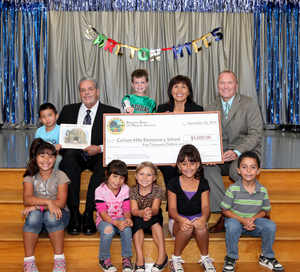 The Barona Band of Mission Indians awarded Carlton Hills Elementary School in Santee with a $5,000 Barona Education Grant, bringing the total amount donated to $1 million to schools statewide.
SAN DIEGO, CA--(Marketwire - September 23, 2010) - As California students settle into the school year, many will find new books, computers or school supplies awaiting them in classrooms around the state. Some of these educational items were purchased with over $1 million in grant money provided by the Barona Band of Mission Indians. Since 2006, over 200 schools throughout the state have benefited from the Tribe's education grant program, reaching an estimated 500,000 students.
"We've reached a milestone toward our goal of helping to provide educational tools to inspire youth throughout California to get excited about education," said Edwin "Thorpe" Romero, chairman of the Barona Band of Mission Indians. "The Barona Tribe is proud to have invested over $1 million to improve learning opportunities for California's children across the state."
The Tribe's significant investment in education was marked by a $5,000 award to Carlton Hills Elementary School in Santee, presented to Principal Terry Heck by Chairman Romero and Barona Tribal Council members. Also in attendance were State Superintendent of Public Instruction Jack O'Connell, Assemblyman Joel Anderson (R-77), Santee City Councilman Brian Jones and school district officials. The students also enjoyed listening to a series of stories read by the officials in a reading circle.
To date, the Tribe's education grants have equipped educators and students at more than 200 schools statewide with hundreds of computers, books, education computer software programs and various other technology and school supplies.
As budget reductions continue in education spending in California, grants such as these become increasingly significant.
"The Barona Education Grant Program is truly an innovative way of creating more opportunities for the children of California," said O'Connell. "Programs of this kind help to ensure that California's next generation will have the means to achieve academically."
"The students and teachers at our school will directly benefit from the new equipment we will acquire with Barona Tribe's generous grant," said Principal Heck. "We are very grateful for the Tribe's support, especially during these tough economic times, and appreciate their dedication to improving our children's education throughout the state."
Carlton Elementary will use its $5,000 grant to purchase three sets of Renaissance 2Know! Classroom Responders benefitting four primary classrooms. The high-tech handheld remote units will be used by students in the classroom to answer questions in short answers, true/false, or multiple choice formats. The results will then be transmitted wirelessly to the teacher providing 100 percent student participation, instant feedback, and immediate validation that students understand their lessons, and also reduces the amount of papers the teacher has to grade.
The Barona Education Grant Program is the first of its kind in California created and administered by Tribal Government. The goal of the program is to create strong educational opportunities for the children of California building upon the success of the Barona Indian Charter School, which operates under a continuous improvement model.
Schools throughout California can apply for educational grants from Barona to purchase much-needed supplies and materials that promote academic improvement. Each grant awarded by the Barona Education Grant Program is $5,000. Applications can be downloaded at http://barona-nsn.gov/education/education.html.
Contact Information:
CONTACT:
Sheilla Alvarez
619-402-0182

Kelly Jacobs Speer
619-933-5013