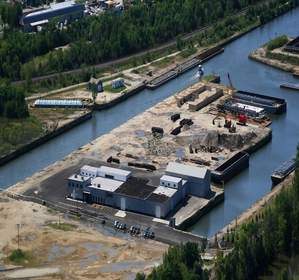 ACL's Lemont, IL Terminal
JEFFERSONVILLE, IN--(Marketwire - September 27, 2010) - American Commercial Lines Inc. (NASDAQ: ACLI) ("ACL" or the "Company") announced today that they have entered into an industrial development agreement with CNW Resources of Naperville, IL. CNW Resources is a leading provider of high-quality metallurgical, chemical and foundry products. Under the industrial development agreement, ACL will construct a new warehouse at its barge terminal in Lemont, IL, located 25 miles southwest of Chicago, to store and transport product for CNW. The new multi-purpose warehouse will significantly increase the indoor storage capacity of the Company's Lemont terminal. ACL's existing 48,000 square-foot climate-controlled warehouse in Lemont is in its third year of operation. As a result of the new industrial development agreement with CNW, ACL will add 20,000 square feet of new indoor storage capacity in Lemont.
"We are entering a new chapter in our close relationship with ACL as we partner to expand the inside storage space at ACL's Lemont Terminal," Andrew Liu, President of CNW, commented. "River transportation, storage, and logistics services have always played an integral role in our company's success. This project positions CNW to provide the most economical service to our customers in the Midwest and to sustain our company's long-term growth."
"ACL continues to pursue new market share growth through industrial development as we bring new freight volumes to the river," stated Mike Ryan, President and CEO of ACL. Gabriel Forir, ACL's Director of Sales, added, "We are excited about expanding our Lemont terminal in partnership with CNW Resources. ACL is proud to provide a complete supply chain solution for CNW Resources, and we look forward to continuing to develop our long-term partnership."
American Commercial Lines Inc., headquartered in Jeffersonville, Indiana, is an integrated marine transportation and service company operating in the United States Jones Act trades, with approximately $850 million in revenues and approximately 2,570 employees as of December 31, 2009. For more information about American Commercial Lines Inc., visit www.aclines.com.
Contact Information:
Contact:
David T. Parker
Vice President, Investor Relations
and Corporate Communications
(800) 842-5491