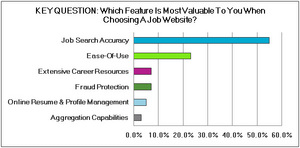 Career Sites - Most Valuable Feature
BOSTON, MA--(Marketwire - September 28, 2010) - uTest, the world's largest software testing marketplace, today announced the results of its Career Sites Bug Battle competition. More than 500 uTesters from 22 countries around the world reported a total of 668 technical, functional and GUI bugs in the web and mobile apps of Monster, CareerBuilder, SimplyHired and Indeed.
uTest's community of software professionals ranked the career sites based on job search accuracy, ease-of-use, profile management, career resources, fraud protection and more. Monster was the undisputed champion of this quarter's competition -- placing first in every survey category, recording the fewest number of bugs per tester and the second fewest number of bugs overall (for details, see the full uTest Bug Battle report).
TOP-LINE FINDINGS:
In terms of overall bug count, Indeed had the least reported bugs (139), followed by Monster (169), CareerBuilder (171), and then SimplyHired (189). While Monster placed first and Indeed placed last in every survey category, CareerBuilder and SimplyHired were deadlocked in the survey portion of the contest, each receiving favorable rankings in three out of six categories.
Job Search Accuracy Is Most Important
More than half of the testers (55%) chose 'job search accuracy' (ability to browse relevant jobs by job title, keyword, location, category, etc.) as the most important criteria when evaluating career applications. Topping this category was Monster, which received a top-two box score (those rating it 'good' or 'excellent') of 65 percent, followed by SimplyHired (62%), CareerBuilder (59%) and Indeed (54%).
Ease of Use, Career Resources & Security
Ease of Use was the second most important selection criteria, with 23 percent of respondents choosing it. Career resources (7%), fraud protection (7%), resume/profile management (5%), and aggregation capabilities (3%) received the remaining votes. In addition, when asked if concerned about the privacy and safety of personal information stored on job websites, an overwhelming 82 percent of respondents answered "yes."
"As of August 2010, there were more than 31 million people unemployed, with the jobless rate holding steady at 9.6 percent," said uTest VP of Marketing & Community, Matt Johnston. "In the face of the worst job market since the Great Depression, more people are turning to the web to find jobs and job-hunting tips. So uTest put the four leading career sites side-by-side and our testing community again proved its ability to quickly mobilize to provide professional testing coverage and usability feedback from around the world."
Detailed results of this study are available at http://www.utest.com/bugbattle/q310/results.
About uTest, Inc.
uTest is the world's largest marketplace for software testing services. The company provides real-world testing services through its community of 30,000+ professional testers from 165 countries around the world. More than 1,000 companies -- from startups to global software enterprises -- have joined the uTest marketplace to get their web, desktop and mobile applications tested. More information can be found at www.utest.com or the company's Software Testing Blog at blog.utest.com.
Contact Information:
Media Contact:
Jennifer Moebius
uTest, Inc.
508-480-9999 x114
jenniferm@utest.com
www.twitter.com/utest