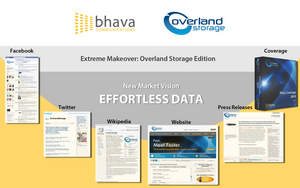 Bhava Communications integrated PR and marketing activities for Overland Storage corporate turnaround re-branding and re-positioning campaign
BERKELEY, CA--(Marketwire - September 30, 2010) - Bhava Communications, a leading-edge integrated marketing, public relations and brand identity agency based in Berkeley, California, today announced that it has been named a finalist in the PR News Platinum PR Awards Best Re-branding/Re-positioning category for its work with Overland Storage. The awards salute the year's most outstanding communications initiatives and programs in the highly competitive and dynamic business of public relations, and sets the industry benchmark for excellence across all categories of PR.
"Bhava is more than an agency, it is an extension of our marketing team. Their team's creativity, comprehensive approach, and strong domain knowledge of our technology landscape enable them to execute a well-defined and strategic plan with a clear path to success for every campaign," said Jillian Mansolf, vice president of global sales and marketing for Overland Storage. "Media and analysts respect and trust them. As a result, Bhava's clients benefit with much more editorial coverage and audience engagement than with any other agency I've used in the past."
Bhava Communications was selected as a finalist for the PR News Platinum Awards based on its work to re-establish Overland Storage as a forward-thinking market leader in the data storage category. Overland engaged with Bhava to create a fresh, unified vision and an integrated PR and marketing campaign that supported the company's evolution -- including introducing the company's new executive team, generating brand awareness and strengthening Overland's brand equity and reputation, as well as solidifying the message that Overland is an innovation leader in the channel that is committed to its reseller partners. As a result, Overland's sales channel was strengthened, sales increased dramatically, and its customer base expanded.
"We are very honored by the recognition of our successful partnership with Overland's visionary new executive team and by the trust they have placed in us to lead their integrated communications strategy," said Elizabeth Zaborowska, principal of Bhava Communications. "With new product innovations launching regularly, significant sales growth and an overwhelmingly positive reception from analysts, journalists and industry pundits, we're excited to be a part of the future of Overland Storage, as we work together to ensure the continued success of its new trajectory."
Bhava's finalist recognition in the PR News Platinum Awards comes concurrent with the company's separate announcement today that it has also been named a finalist in PR News' Digital PR Awards, in the Media Relations Campaign category for its work with a separate client.
Winners of the PR News Platinum Awards will be announced at an awards luncheon on October 5 in New York City. For more information, visit http://www.prnewsonline.com/awards/platinumpr2010_event-finalists.html
About Bhava Communications
Bhava Communications is a leading-edge integrated marketing, public relations and branding agency specializing in serving information technology, clean tech/green tech, and consumer goods and services companies at every stage -- from pre-launch startups to large public enterprises. Bhava (rhymes with "java") delivers a holistic and social approach to communications, leveraging strong relationships and integrating social media outlets and tools, online communities, creative campaigns, and in-person events to enrich brand identities and ensure its clients are part of the conversation across all relevant platforms.
Connect with Bhava Communications on Twitter: www.twitter.com/BhavaCom, or Facebook: www.facebook.com/BhavaCom.
Contact Information:
Media Contact:
Kim Vu
Bhava Communications

510-219-8127