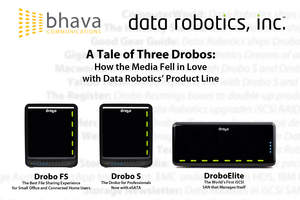 Bhava Communications media relations campaign for the launch of DroboElite, Drobo S and Drobo FS to the SMB and prosumer markets
BERKELEY, CA--(Marketwire - September 30, 2010) - Bhava Communications, a leading-edge integrated marketing, public relations and brand identity agency based in Berkeley, California, today announced that it has been named a finalist for PR News Digital PR Awards in the Media Relations Campaign category for its work with Data Robotics. The PR News Digital PR Awards are recognized as the industry's top honor in the PR/Communications digital space, recognizing outstanding digital initiatives among corporations, agencies and nonprofits. The coveted awards set the industry benchmark for excellence across all areas of digital PR.
To successfully launch three new products -- DroboElite, DroboS and Drobo FS -- Data Robotics embarked on an extensive nine-month media relations campaign with Bhava Communications. Working closely with company executives, Bhava Communications created new messaging and positioning for each product to target specific vertical markets and media. As a result, Data Robotics reached untapped segments of several new markets, generating brand and product awareness across key audiences, as well as expanding its positive reputation with channel partners and media. The company also strengthened existing relationships and built new, meaningful associations with press, bloggers and analysts while significantly enhancing its online presence by actively engaging with their core audiences using social media tools.
"We're delighted to have been part of the continuing success of Data Robotics' popular line of data storage arrays and are proud of our work partnering with its executive team to launch the three new Drobos," said Elizabeth Zaborowska, principal and founder of Bhava Communications. "This recognition is a testament to the many positive press, blogger, and analyst relationships we've forged together with Data Robotics and the genuine enthusiasm their innovative technology generates."
Bhava's finalist recognition in the PR News Digital Awards comes concurrent with the news that the agency has also been named a finalist in PR News' Platinum PR Awards in the Re-branding/Re-positioning category for its work with a different client, announced separately today.
Winners of PR News' Digital PR Awards will be honored at an awards dinner in New York City on October 6. For more information, visit: http://www.prnewsonline.com/awards/digitalprawards2010-finalists.html
About Bhava Communications
Bhava Communications is a leading-edge integrated marketing, public relations and branding agency that specializes in serving information technology, clean tech/green tech, and consumer goods and services companies at every stage -- from pre-launch startups to large public enterprises. Bhava (rhymes with "java") delivers a holistic and social approach to communications, leveraging strong relationships and integrating social media outlets and tools, online communities, creative campaigns, and in-person events to enrich brand identities and ensure its clients are part of the conversation across all relevant platforms.
Connect with Bhava Communications on Twitter: www.twitter.com/BhavaCom, or Facebook: www.facebook.com/BhavaCom.
Contact Information:
Media Contact:
Kim Vu
Bhava Communications

510-219-8127