Ravensbourne Chooses Cisco to Transform New Campus Ahead of London 2012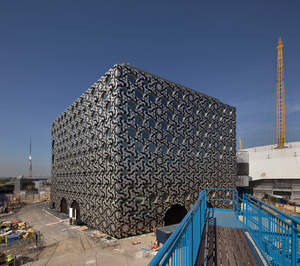 Ravensbourne chooses Cisco to transform new campus ahead of London 2012
LONDON--(Marketwire - October 7, 2010) - Design and digital media higher education institution Ravensbourne is using Cisco (NASDAQ: CSCO) technology to prepare for its role in London 2012 and beyond, relocating its campus from Kent to a regenerated site that will serve as a digital hub in London 2012 Host Borough Greenwich.
The new building, which has just opened, will run on a Cisco Borderless Network architecture and play a key role in developing the digital offering of the borough to businesses and students before, during and beyond London 2012. In addition, the new campus will be central to the long-term regeneration of the local business community, supporting learning and business programmes.
In its role as the Official Network Infrastructure Supporter for London 2012, Cisco is actively working with organisations such as Ravensbourne that, by their initiatives and location, are catalysts for regeneration and economic growth.
Key Facts/Highlights
Ravensbourne is a university sector college specialising in digital media and design, with a vocationally focused portfolio of courses, spanning fashion, television and broadcasting, interactive product design, architecture and environment design, graphic design, animation, moving image, music production for media, and sound design.
In addition to its courses Ravensbourne runs a creative business-incubation programme, using research and enterprise with converging technologies to support developing design and media companies. As a design 'laboratory,' Ravensbourne provides a space for industrial planning and prototyping and plays a key role in the innovation of London's digital technology industries.
To support its digital offering Ravensbourne has regularly invested in and updated the technology that powers its Kent campus. However, over a period of years, the fragmented nature of this investment has led to disparate systems and networks.
In September Ravensbourne relocated to a new campus at Greenwich Peninsula, in South East London, which will incorporate the various benefits of Ravensbourne's existing technology under a single, unified information and communications technology strategy. Ravensbourne has taken an architectural approach to delivering its ICT infrastructure, basing it on the Cisco Connected Learning technical blueprint.
Built on a Cisco Borderless Networks platform, the new building aims to simulate the environment and working practices of creative professionals rather than replicate the traditional classroom format of many colleges. Designed to encourage interaction between disciplines, the campus building features open spaces, quiet corners, social spaces, technology hubs, design studios and production suites, all linked through virtual environments and digital technologies.
Cisco technology deployed at the new site includes a local area network featuring Cisco Catalyst® 6500 Series Switches with Virtual Switching System for the core, as well as Catalyst 4506 Switches for the access layer. In addition, the solution includes Cisco Application Control Engine load balancing, Cisco N Series Wireless routers, Cisco ASA 5550 Firewalls, the Cisco ACS Access Control Server and Cisco NAC (Network Access Control).
In addition to an integrated cabled network system, and free Wi-Fi and high-speed internet access throughout, the campus will also house a six-channel HDTV studio, a four-channel studio, two linked four-channel atria, an HD virtual studio and a Dolby Surround sound studio. All of this is supported by 60 Avid and Apple Final Cut workstations, a high-end grading suite, a Dolby mastering studio, an ingest and record system, digital asset management systems, an automated playout system supporting IPTV channels, mobile delivery and Disk-to-Disk-to-Tape.
Green technologies have been built into the fabric of the new facility, which was kept as compact as possible and constructed with environmentally friendly materials such as FSC timber and reused aggregates. And with a green roof, solar hot water and a biomass boiler, the building will achieve BREEAM Excellent status. Once in use, Ravensbourne will also continually expand its use of renewable energies, improve waste and recycling, and reduce water consumption.
The Borderless Networks architecture will also allow Ravensbourne to adopt Cisco EnergyWise Technology in the future, which will enable the organisation to measure the power consumption of its network infrastructure and network-attached devices, and to realise cost-savings by taking action to reduce both.
The Cisco network infrastructure and Cisco Borderless Networks architecture at Ravensbourne will be deployed in partnership with BTiNet, a Cisco Gold Certified Partner.
Key Quotes
"We believe that the future of higher education lies in providing not only theoretical and practical knowledge, but also a suitable environment that prepares students for the workplace," says Chris Thompson, Ravensbourne's head of enterprise and innovation. "With technology underpinning almost every discipline in a knowledge economy, it is important that we are able to reflect that in the way our students train and learn. The stability of the Cisco network that forms the foundation of our ICT systems gives us the integration capabilities and reliability we need to equip our students with the skills and commercial acumen they will need in their careers."

"Ravensbourne is a great example of an educational organisation that is not simply recognising the shift in the necessary skills for a knowledge economy, but is proactively altering its way of thinking to stay ahead of the game," says Neil Crockett, managing director, 2012, Cisco UK & Ireland. "We are delighted to work with them as they shape their strategy for how to deliver an education designed for the 21st century."

"Ravensbourne is set to play a central role in the development of Greenwich Peninsula as a hub for digital design, media and other creative industries. The Greenwich Digital Skills Centre will be an outstanding new facility and will enable Greenwich Council to work with Ravensbourne to support this growing and rapidly changing sector, while helping attract businesses to invest in the borough," says Denise Hyland, Greenwich Council cabinet member for regeneration, economy and skills. "This is an important area of employment growth in Greenwich -- and across the capital -- and we believe our partnership with Ravensbourne will provide significant learning, skills and job opportunities for young people and others across the borough, as well as opening up new opportunities for local businesses."
Additional resources
http://www.youtube.com/watch?v=ohROM6nUV9I
About Cisco Borderless Networks
Cisco Borderless Networks deliver intelligent, adaptive services to streamline operations and increase flexibility, resiliency, and security.
The Cisco EnergyWise, medianet, and TrustSec solutions span an extensive product portfolio and can help:
Deliver a media experience that enhances productivity
Accelerate business growth through technology innovation
Reduce total cost of ownership and ease of operations
Provide seamless, highly secure, wired and wireless connectivity
For more information visit the Cisco website.
Technorati tags
Cisco, Ravensbourne, Greenwich, regeneration, London 2012, Borderless Networks, EnergyWise
Cisco RSS feed
http://newsroom.cisco.com/dlls/rss.html
For more Cisco news in UKI, please visit http://www.cisco.com/cisco/web/UK/news/index.html
About Cisco
Cisco (NASDAQ: CSCO), the worldwide leader in networking that transforms how people connect, communicate and collaborate, this year celebrates 25 years of technology innovation, operational excellence and corporate social responsibility. Information about Cisco can be found at http://www.cisco.com. For ongoing news, please go to http://newsroom.cisco.com. Cisco equipment in Europe is supplied by Cisco Systems International BV, a wholly owned subsidiary of Cisco Systems, Inc.
Cisco, the Cisco logo, Cisco Systems and Catalyst are registered trademarks or trademarks of Cisco Systems, Inc. and/or its affiliates in the United States and certain other countries. All other trademarks mentioned in this document are the property of their respective owners. The use of the word partner does not imply a partnership relationship between Cisco and any other company. This document is Cisco Public Information.
Contact Information:
Press Contact:

Fiona Buckley
Cisco Systems, Inc.
+44 20 8824 1823
fibuckle@cisco.com