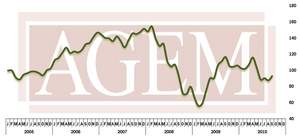 Association of Gaming Equipment Manufacturers Releases September 2010 Index
LAS VEGAS, NV--(Marketwire - October 11, 2010) - After declining three of the last four months, the AGEM Index witnessed its largest increase since April. During the month of August, the composite score of 17 global gaming suppliers rebounded 5.15 points, or 5.86 percent, to 93.04. While the latest movement is positive, it is important to note that the index remains down 20.3 percent from a year ago. Additionally, the AGEM Index fell short of the gains reported in the broader equity markets as the Dow Jones Industrial Average and Standard and Poor's 500 Index increased 7.7 percent and 8.8 percent, respectively, during the month of September.
The AGEM Index is largely driven by the performance of slot manufacturers, which has remained relatively weak due to many casino operators reducing their capital expenditures during the latest business cycle. With the contraction in slot replacements over the last several years, it is inevitable that operators will need to increase their investments in new hardware. If not solely to remain competitive, within the next two years many gaming properties will eventually need to begin rotating machines and systems that will have become largely antiquated over what will have been more than three years of downturn.
Selected positive contributors to the index during the month included:
Lottomatica (LTO) adding 1.56 points to the index based on a 4.56-percent increase its stock performance.
Konami (KNM) contributing 1.24 points to the index based on a 10.17-percent gain in its stock valuation.
Selected negative contributors to the index included:
International Game Technology (IGT) posting -0.23 points to the index with a 1.03-percent decline in its stock price.
INTRALOT (INLOT) with its stock price dropping 8.39 percent, contributing -0.07 points to the index.
AGEM
Exchange: Symbol
Stock Price At Month End
Percent Change
Index
(Currency)
Sep-10
Aug-10
Sep-09
Prior Period
Prior Year
Contribution
Ainsworth Game Technology
ASX: AGI (AU$)
0.13
0.13
0.13
-
-
0.01
Aristocrat Technologies
ASX: ALL (AU$)
3.53
3.72
5.25
(5.11)
(32.76)
0.25
Astro Corp.
Taiwan: 3064 (NT$)
48.60
46.10
73.00
5.42
(33.42)
0.04
Bally Technologies
NYSE: BYI (US$)
34.95
31.45
38.37
11.13
(8.91)
1.09
Elixir Gaming Technologies
AMEX: EGT (US$)
0.27
0.23
0.28
17.39
(3.57)
0.03
GameTech International
Nasdaq: GMTC (US$)
0.36
0.36
1.71
-
(78.95)
-
Gaming Partners International
Nasdaq: GPIC (US$)
5.90
5.96
5.80
(1.01)
1.72
(0.00)
Global Cash Access
NYSE: GCA (US$)
4.08
3.62
7.31
12.71
(44.19)
0.18
IGT
NYSE: IGT (US$)
14.45
14.60
21.48
(1.03)
(32.73)
(0.23)
INTRALOT S.A.
ATHEX: INLOT (€)
2.84
3.10
4.71
(8.39)
(39.70)
(0.07)
Konami
NYSE: KNM (US$)
17.66
16.03
20.33
10.17
(13.13)
1.24
Lottomatica (GTECH)
MILAN: LTO.MI (€)
11.24
10.75
15.31
4.56
(26.58)
1.56
Multimedia Games
Nasdaq: MGAM (US$)
3.70
3.49
5.12
6.02
(27.73)
0.03
Shuffle Master
Nasdaq: SHFL (US$)
8.41
7.95
9.42
5.79
(10.72)
0.14
Transact Technologies
Nasdaq: TACT (US$)
8.00
7.71
5.30
3.76
50.94
0.01
Wells-Gardner Electronics
AMEX: WGA (US$)
2.10
2.50
1.90
(16.00)
10.53
(0.02)
WMS Industries
NYSE: WMS (US$)
38.07
35.34
44.56
7.72
(14.56)
0.88
Change in Index Value
5.15
AGEM Index Value: August 2010
87.89
AGEM Index Value: Septemebr 2010
93.04
At the heart of gambling in the United States, and quite possibly the hardest-hit economy, changes in the Las Vegas gaming landscape continue to evolve. In downtown Las Vegas, gaming revenue has remained weak in recent years as tourists flock to the ever-bigger and more modern hotel-casinos of the famous Strip that are being forced to compete on price. The latest casualty came in September with the Plaza announcing its plans to cease operations of its 1,037-room hotel for at least a year during renovations. This is the second a hotel to close its doors downtown within the last 12 months after Binion's closed the doors on its hotel operations in December. As hotel operations are temporarily out of service, demand on gaming will likely be impacted.
Additionally, Isle of Capri, a former owner of the now shuttered downtown Lady Luck, was approved for a Nevada gaming license in September. Management has indicated that there is potential for them to enter the Las Vegas locals market, possibly adding competition and new investment in the gaming sector.
Other news out of Las Vegas during September include Carl Icahn selling the furniture from the unfinished 3,800-room Fontainebleau hotel-casino suggesting that in the near term, the billionaire doesn't expect a strong market recovery and that his plans for finishing the stalled project as currently programmed are slim.
Despite broader economic conditions, MGM Resorts International CEO Jim Murren said that CityCenter has "been profitable all quarter." Additionally, its under-construction Deutsche Bank-owned neighbor, The Cosmopolitan of Las Vegas, began interviewing potential employees for the 5,000 positions needed to open the property by December 15th. The property is expected to debut with a 100,000-square foot gaming floor.
The Hollywood Casino Perryville is the first slot casino in Maryland to open and will remain so until the Ocean Downs Racetrack is completed, which is expected in December. The 1,500-slot casino is approximately 40 miles northeast of Baltimore.
While the Kansas Lottery Commission reviewed applications for a new casino near Wichita, Harrah's announced that it would withdraw its proposal suggesting that the remaining two applicants will move forward in the selection process.
In Missouri, potential operators of the state's last gaming license continue to make proposals for a new casino. Looking ahead, it is expected that a study analyzing the four proposed casino sites will be completed in October with the state gaming commission ruling on its selection thereafter.
The AGEM Index
The Association of Gaming Equipment Manufacturers (AGEM) produces the monthly AGEM Index that comprises 17 global gaming suppliers throughout the world. A total of 12 suppliers are based in the United States and are listed on the NYSE, Nasdaq, or AMEX, while two trade on the Australian exchange, one supplier trades on the Athens exchange, one trades on the Milan exchange, and another trades on the Taiwan OTC exchange. The index is computed based on the month-end stock price (adjusted for dividends and splits) of each company and weighted based on approximation of market capitalization. Market capitalizations for manufacturers trading on foreign exchanges have been converted to US dollar-equivalents as of month-end for comparability purposes. The AGEM Index is based on a 100-point value as of January 2005.
About AGEM
AGEM is an international trade association representing manufacturers of electronic gaming devices, systems, and components for the gaming industry. The Association works to further the interests of gaming equipment manufacturers throughout the world. Through political action, tradeshow partnerships, information dissemination and good corporate citizenship, the members of AGEM work together to create benefits for every company within the organization. Together, AGEM and its member organizations have assisted regulatory commissions and participated in the legislative process to solve problems and create a positive business environment.
AGEM Index and Overview
The AGEM index and overview is prepared by Applied Analysis (AA). AA is a Nevada-based advisory services firm providing consultation services for public and private entities. The company utilizes extensive experience in economics, information technology and finance to provide a wide range of services, including urban economic consulting, financial advisory services, market analysis, public policy analysis, hospitality industry and gaming consulting, and information system and technology consulting.
AGEM Membership Roster
The current AGEM membership roster, 100 strong, is a who's who of the supplier segment of the global gaming industry:
AGEM Gold Members:
Aristocrat Technologies
Aruze Gaming America
Austrian Gaming Industries
Bally Technologies
GTECH/Atronic/Spielo
International Game Technology (IGT)
Intralot S.A.
Konami Gaming
WMS Gaming
AGEM Silver Members: Action Gaming, American Gaming Systems (AGS), Casino Technology, JCM Global, MEI, Multimedia Games, Shuffle Master, Suzo-Happ Group, TCSJohnHuxley and Wells-Gardner Electronics.
AGEM Bronze Members: AC Coin & Slot, Acres 4.0, Ainsworth Game Technology, Astro Corp., Bingotimes Technology, Borden Technology, Cadillac Jack, Cammegh Limited, CashCode / Crane Payment Solutions, Diamond Game, Digital Display Group, Entropy Precision System, Euro Games Technology (EGT), GameTech International, Gaming Partners International, Gaming Support, Incredible Technologies, Interblock USA, Jumbo Technology, KGM Gaming, Lightning Gaming, Matsui Gaming Machine Co., MCA Processing, Modern Gaming, Rocket Gaming Systems, Summit Gaming, THT and Winning Asia Technology.
AGEM Associate Members: 3M Touch Systems, AxesNetwork Solutions, Bullivant Houser Bailey, Casino Enterprise Management, CMYK Creative, Codespace Gaming, Cole Kepro International, Cybertec Gaming Systems, Diamond Casino Products, DynaGraphic Printing, Elite Casino Products, Esterline Advanced Input Systems, FutureLogic, Gaming Capital Group, Gary Platt Manufacturing, Global Cash Access, Global Gaming Group (G3), Grand Products, Heber Ltd., Howard & Howard, IDX, Intel, IPS, James Industries, KEY-BAK, Kreller Group, Lewis & Roca, Lincoln Industries, Masterpiece Advertising, MC2, Money Controls, Nanoptix, Outpost Creative, Phelps Dunbar, Proforma GPS, Quixant Ltd., Regulatory Management Counselors, Rye Park Gaming, Sanmina-SCI, SCA Gaming, Strategy9, StylGame USA, Talent Associates, The Bright Group, Tournament One, TMX, Trade Show Fabrications, TransAct Technologies, Veridocs, Wrex Products and Young Electric Sign Company (YESCO).
Contact Information:
For More Information, Contact:
Marcus Prater
Executive Director
P.O. Box 50049
Henderson, NV 89016-0049
702.812.6932