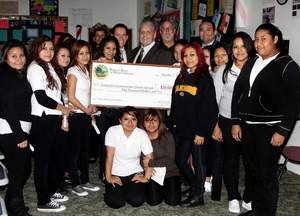 Ten Soledad Enrichment Action charter schools receive education grants totaling $50,000 from the Barona Band of Mission Indians.
LOS ANGELES, CA--(Marketwire - October 11, 2010) - Recently, staff and students of 10 Soledad Enrichment Action (SEA) charter schools accepted a $50,000 education grant from the Barona Band of Mission Indians. The check was presented by Edwin "Thorpe" Romero, Chairman of the Barona Band of Mission Indians and Tribal Council members, at the SEA Girls Academy campus in Los Angeles. Each school was awarded $5,000 as part of the Barona Education Grant program.
As schools across the state continue to wrestle with the reality of budget cuts, the Barona Band of Mission Indians has been sharing resources through its Barona Education Grant Program. Since 2006, Barona has awarded more than $1 million to over 200 schools and an estimated 500,000 students statewide. The schools were selected based on an application process and endorsement by their California state representatives.
The following schools received a $5,000 Barona Education Grant, benefitting approximately 800 students in total:
SEA South Central, endorsed by Assembly Speaker John Perez, located at 1037 E. 34th Street, Los Angeles, 90011;
SEA Montebello, endorsed by Assembly Majority Leader Charles Calderon, located at 715 Brady Ave., Los Angeles, 90022;
SEA Girls Academy, endorsed by 26th District Senator Curren Price, Jr., located at 2503 W. 7th Street, Los Angeles, 90057;
SEA Soto, endorsed by 22nd District Senator Gilbert Cedillo, located at 735 S. Soto St., Los Angeles, 90023;
SEA Fetterly, endorsed by 24th District Senator Gloria Romero, located at 141 S. Fetterly Ave., Los Angeles, 90022;
SEA South Gate, endorsed by 50th District Assemblymember Hector De La Torre, located at 9722 San Antonio, South Gate, 90280;
SEA Firestone, endorsed by 52nd District Assemblymember Isadore Hall, located at 1785 E. 85th Street, Los Angeles, 90001;
SEA Highland Park, endorsed by 45th District Assemblymember Kevin De Leon, located at 5306 Figueroa Ave., Highland Park, 90042;
SEA Norwalk, endorsed by 30th District State Senator Ron Calderon, located at 11859 Firestone Blvd., Norwalk, 90650; and,
SEA North Long Beach, endorsed by 55th District Assemblymember Warren Furutani, located at 495 E. Market Street, Long Beach, 90805.
"We are proud to support the Soledad Enrichment Action charter schools for the third consecutive year based on the great work they are doing to help at-risk students," said Chairman Romero. "It has been a tough year for schools with so many budget cuts throughout California. We hope our Education Grant will help to enhance their sustained reading program."
The Los Angeles-based SEA charter high schools provide high-risk youth and their families with alternatives to gangs, drugs and violence through educational services, counseling, exposure to the arts and experiential learning. The SEA schools will use the grant money to purchase materials and books for a sustained silent reading program.
The Barona Education Grant Program is the first of its kind in California created and administered by a Tribal Government. The goal of the program is to create strong educational opportunities for the children of California building upon the success of the Barona Indian Charter School, which operates under a continuous improvement model.
Schools throughout California can apply for educational grants from Barona to purchase much-needed supplies and materials that promote academic improvement. Each grant awarded by the Barona Education Grant Program is $5,000. Applications can be downloaded at http://barona-nsn.gov/education/education.html.
About the Barona Band of Mission Indians
The Barona Band of Mission Indians, recognized by the United States government as a sovereign nation, has lived on the Barona Indian Reservation in rural eastern San Diego County since 1932. Prior to that, the Tribe lived on the Capitan Grande Reservation which was established by the federal government in 1875. Long before living on a reservation, the Tribe traveled across Southern California in tune with the seasons and what nature provided. Today, the sovereign nation, governed by an elected Tribal Council, is serving its Tribal members, their families, and sharing with the San Diego region. One of the most successful gaming Tribes in the country, Barona also owns and operates the Barona Resort & Casino, San Diego's leading gaming resort, casino and golf course. For more information, visit www.barona-nsn.gov.
Contact Information:
CONTACT:
Sheilla Alvarez
619-402-0182

Kelly Jacobs Speer
619-933-5013