Get optimum business value from your network with Entuity Eye of the Storm.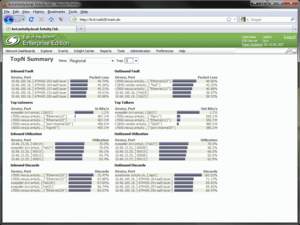 EYE dashboards help keep your network optimally performing.
MARLBOROUGH, MA and LONDON--(Marketwire - October 12, 2010) -
News Facts
Entuity®, the leader in next-generation, value-focused network management solutions and the global developer of its award-winning Eye of the Storm® (EYE) software portfolio, today announced that megasoft GmbH, a value added reseller based in Solingen, Germany has joined the Entuity Channel Partner Network (ECPnet™). megasoft GmbH will bolster their IT infrastructure solutions with the addition of EYE.
For more than 20 years, megasoft GmbH has been a key technology partner to a wide variety of enterprises, local municipalities, and SMBs. Through their expertise and valuable support the Company has equipped customers with the IT technology that keeps them competitive and successful. From providing correct licensing and timely procurement, to an outstanding knowledge base on technical products and understanding essential economic requirements, megasoft listens and responds to their customers' diverse needs.
Eye of the Storm delivers a network management solution for the contemporary needs of this market by automatically and continually discovering and capturing in-depth network data and analytics, concurrently providing integrated fault, device and flow-based performance management capabilities. EYE enables IT professionals to deliver greater business value from their networks -- reducing costs, improving service availability, managing risk, ensuring compliance and achieving Green IT sustainability.
Supporting Quotes
Quote, attributed to Arne Brucker, Managing Director, megasoft GmbH
"The addition of EYE to our IT solutions offers a trusted network management solution that is fully integrated -- automating many of the management functions which typically waste an IT Manager's time. The combination of netflow, wireless, Green IT, root cause and virtualization capabilities deliver a customizable solution so that our customers obtain the features they need to keep their networks optimally performing while maximizing their IT resources. EYE's ease of use, numerous reports and affordability allows our customers to see immediate value from their network."

Quote, attributed to Peter Licursi, vice president, Global Sales, Entuity
"megasoft GmbH brings a wealth of new opportunities to Germany that have yet to take advantage of EYE's proactive network management capabilities. Eye of the Storm is an affordable solution enabling their customers to improve service delivery, maximize their IT resources, and even develop Green IT programs. We are looking forward to a relationship that will bring this ability to meet contemporary IT needs more efficiently to a broader set of enterprises in Europe."
Multimedia Elements
About megasoft GmbH
For more than two decades, megasoft GmbH has been a key value added reseller with specialized IT expertise that supports a wide-range of customers. Large enterprises, local authorities and SMBs all rely on megasoft for their IT solutions. These long-term partnerships have evolved because of the outstanding service and support provided by megasoft which create high levels of customer satisfaction and loyalty. A complete product line and dedicated staff deliver the IT solutions necessary that keep their customer base successful. For further information: http://www.megasoft.de.
About Entuity
Entuity is the leader in next-generation, value-focused network management and service delivery solutions at price points to match a range of business models. The Company's line of Eye of the Storm (EYE) software automatically discovers, captures, correlates, and alerts on unrivalled network data and analytics. EYE's unique InSight Center™ Perspectives explicitly relate business value to help reduce operational and capital costs, reduce network downtime, achieve sustainability goals, commit to, deliver and prove service level commitments, ensure network configuration compliance, and optimize performance of private cloud environments.
Winner of numerous industry and business awards including the Network Products Guide 2010 Product Innovation Award for Network Management, EYE has been praised for its fast deployment, ease of use, and low cost of ownership. Entuity customers include enterprises, SIs, and MSPs such as ABB, Aptina, Astra Zeneca, BMC Software, CLS Services, DIRECTV, IBM Global Services, Perot Systems, Phones 4U, The Royal Bank of Scotland, SASSA, Sony, Visteon, and WorldPay. For more information on Entuity, please visit www.entuity.com or call +1.508.357.6346 (North America) or +44 (0) 20 7444 4800 (Europe).
Entuity and Eye of the Storm are registered trademarks and InSight Center is a trademark of Entuity, Ltd. All other marks and names mentioned herein may be trademarks or registered trademarks of their respective companies.
Contact Information:
Contact Information:
Kenneth Klapproth
Entuity
+1.508.357.6347