Enjoy the tradition, history and unique charm of Vicksburg. Visit the new tourism website for more information on events and hot deals.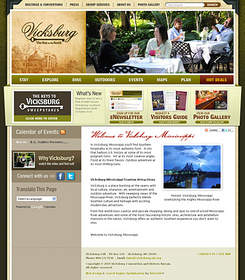 Visit the new Vicksburg tourism website, www.visitvicksburg.com, for information on events, hot deals and more.
VICKSBURG, MS--(Marketwire - October 12, 2010) - The Vicksburg Convention and Visitors Bureau (VCVB) has unveiled a new layout and design for its website to promote travel to Vicksburg. The VCVB's new website features more images and a sleeker look with enhanced sections such as the Calendar of Events and Hot Deals sections. You can check out the website at www.visitvicksburg.com.
The VCVB is promoting its new tourism website by launching a contest on Monday, Oct. 4 to win a free luxury weekend to Vicksburg. The luxury weekend getaway includes:
Two-night stay at one of historic Vicksburg's magnificent bed and breakfast inns of the winner's choice (based on availability)
Gift cards to two of Vicksburg's best-known dinner restaurants
A guided tour of the Vicksburg National Military Park
An attractions pass to visit Vicksburg's finest attractions
A spa day for two at The Body Shop Spa
Enter to win the luxury weekend in Vicksburg! To enter visit the VCVB website, answer one question and fill out a registration form. The winner will be chosen randomly and notified on November 1 and will have until 5 p.m. November 2 to accept. Transportation expenses are not included. The prize package is valid Nov. 1, 2010 through Jan. 31, 2011.
For more information about the Vicksburg Convention and Visitors Bureau or tourist information on Vicksburg visit www.visitvicksburg.com or call 800-221-3536.