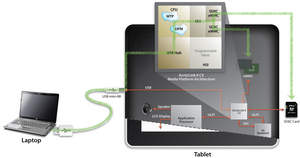 QuickLogic - ArcticLink II CX in a Tablet Application
SUNNYVALE, CA--(Marketwire - October 13, 2010) -
Faster sideloading delivers superior user experience for moving HD-quality content to and from smartphones and tablets

Offloaded Digital Rights Management (DRM)-protected multimedia content speeds time-to-market for mobile device OEMs

Super fast Encryption block for secure content and data protection
QuickLogic Corporation (NASDAQ: QUIK), the leader in low power Customer Specific Standard Products (CSSPs), today launched the ArcticLink® II CX solution platform family targeting multimedia-oriented, and multi-modem smartphone and tablet applications. The highly integrated yet customizable architecture makes the ArcticLink II CX solution platform family ideal for CSSPs that deliver a superior consumer experience.
"High-end smartphones and tablet PCs are launching with multimedia-oriented capabilities, including the ability to capture, record, playback and view high definition (HD) video content," said Brian Faith, QuickLogic's vice president of worldwide marketing. "Cisco Systems claims that by 2014, more than 66% of all mobile data traffic will be video." The user experience often suffers due to the substantial bandwidth and memory requirements for downloading and sideloading large video files between mobile and other computing devices. QuickLogic's ArcticLink II CX solution platform family is ideal for delivering CSSPs that accelerate the performance of sideloading HD and DRM-protected content, as well user data. OEMs benefit from this new dimension of customization that improves the consumer user experience of their products.
Target Applications
The first ArcticLink II CX family members target two major applications within smartphones and tablets: multimedia content and multi-radio integration. The 32-bit RISC microprocessor subsystem manages system tasks such as the sideloading of HD-quality content to and from the device, and management of CPRM/DRM (Digital Rights Management) middleware for the playback of copyrighted multimedia.
Today, application processors targeted for use in mobile devices are transitioning from wide, proprietary buses to serial, standardized buses such as USB. To support this emerging trend, the ArcticLink II CX platforms can also implement a PHY-less USB link, referred to as USB UTMI+ Low Pin Interface (ULPI) -- a PHY-less USB link using standard device drivers, which provide a low-power local-bus connection to the application processor using a minimal number of pins.
An emerging trend supporting the need for additional USB ports is the inclusion of both 3G and 4G modems as a way of increasing the cellular bandwidth of the mobile device. Connecting these modems to the host processor may require additional USB ports beyond the processor's capability. To resolve this issue, the High Speed USB Hub integrated into the ArcticLink II CX platform family can enable one processor USB port to communicate with both modems in a power efficient manner.
Availability
QuickLogic is engaged now with lead OEMs for CSSPs based on ArcticLink II CX platforms, and expects to sample devices during Q1, 2011. Contact QuickLogic at sales@quicklogic.com, or visit http://www.quicklogic.com for more information.
About QuickLogic
QuickLogic Corporation is the inventor and pioneer of innovative, customizable semiconductor solutions for mobile and portable electronics OEMs and ODMs. These silicon plus software solutions are called Customer Specific Standard Products (CSSPs). CSSPs enable our customers to bring their products to market more quickly and remain in the market longer, with the low power, cost and size demanded by the mobile and portable electronics market. For more information about QuickLogic and CSSPs, visit www.quicklogic.com.
ArcticLink and QuickLogic are registered trademarks and the QuickLogic logo is a trademark of QuickLogic Corporation. All other brands or trademarks are the property of their respective holders and should be treated as such.
Code: Quik-G
Contact Information:
Contact:
Andrea Vedanayagam
Veda Communications
(408) 656-4494