Take a video tour of Villa Pietra
Villa Pietra will sell at real estate auction on Thursday, October 28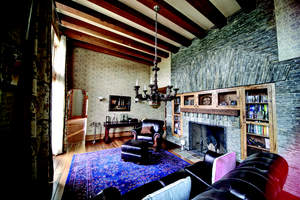 A Tuscan-inspired home in Oregon's Wine Country, Villa Pietra will have an opening bid starting at $2.25 million
SHERWOOD, OR--(Marketwire - October 13, 2010) - A four-bedroom, five-bath estate located in Oregon's Wine Country will sell at real estate auction on October 28. Villa Pietra, which sits on 20 acres in the Willamette Valley, was last listed at $6.95 million but will have an opening bid starting at $2.25 million on auction day. J. P. King Auction Company, the nation's leading real estate auction marketing firm, will conduct the sale.
Villa Pietra's construction includes a gourmet kitchen, two master suites, a two-story children's bedroom and a 400-bottle climate-controlled wine cellar.
"The ambiance of the home really makes it special," said Butch Paulson, the home's owner. "It's private, peaceful and beautiful. Every part of the house has been finished to the finest detail, and the grounds and wildlife make it a relaxing environment with a view."
The Tuscon-inspired home has an exterior accented with European hornbeam, lavender and rosemary along the driveway and a cobblestone courtyard draped with wisteria. With an original construction cost of over $10 million, the yards also include an equestrian facility and riding arenas, a 90-foot lap pool with extensive patio and several fish-filled ponds, streams, waterfalls and gardens.
"This is a magnificent property," said Craig King, president and CEO of J. P. King Auction Company. "With an opening bid starting at $2.25 million, it is truly a value to its next buyer. Such a beautiful home in the heart of Willamette Valley is a great offer."
The auction will take place on Thursday, October 28 at 1 p.m. at the home, which is located at 27705 S.W. Heater Road in Sherwood. For additional information, individuals may contact J. P. King at 800.558.5464 or visit the company's website at www.jpking.com.
J. P. King Auction Company specializes in high-value properties and portfolios such as luxury homes, developments, condominiums and land and ranches. The company has marketed properties in all 50 states and six countries with recent sales in Texas, Alaska, Tennessee, Oregon, Wisconsin, Alabama and Wyoming.
Keep in Touch:
Twitter
Facebook
Craig King's blog
Contact Information:
Contact:
Caley King Newberry
Cell: 256.295.3629