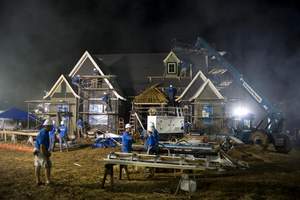 Maxwell Systems' client, Dolan Construction, is a significant contributor to ABC's 'Extreme Makeover: Home Edition' project airing October 24, 2010. (Photo provided by Dolan Construction)
KING OF PRUSSIA, PA--(Marketwire - October 18, 2010) - Maxwell Systems, Inc., a leading provider of complete construction business management software solutions, commends its long-time customer, Dolan Construction Inc., based in Reading, Pa., for its significant contributions to the Emmy-award winning TV show, "Extreme Makeover: Home Edition" airing October 24, 2010 on ABC Television at 8:00 p.m.
The home was built for Trisha Urban, a widow, and her one-year-old daughter, Cora, of Tilden Township, near Hamburg, Pa. The morning she gave birth, Trisha lost her husband and Cora's father, Andy, who died of a massive heart attack. Born with a congenital heart defect, Andy was only 30-years-old upon his death. Since his passing, Trisha has become an advocate for health care reform and a strong supporter of the American Heart Association.
The construction project included the demolition of the existing 300-year-old log cabin and the building of a new 2,800-square-foot home within a one-week period while Ms. Urban and her daughter were on vacation. The home was built by a collaboration of several builders under the name of the Berks County Home Builders Association. Patrick Dolan, president of Dolan Construction, was one of the project leads. Dan Foster, a field coordinator at Dolan served on the Cobra team, a group that handled issues and emergencies. In addition, a majority of the firm's field team framed the house in just one day and several of their craftsmen took care of miscellaneous carpentry needs.
"Just having our first child as well, my wife and I actually cried when we read the story of Trisha Urban in the paper," explained Patrick Dolan, president of Dolan Construction. "We had never met her, but couldn't imagine what she was going through. So, when Extreme Makeover contacted me, it was a simple decision to get involved. This was a great experience for our team. I'm really proud of what they did and it really fired them up. It was a true privilege to be a part of this project, to see an entire community pull together, and to be able to change a family's life forever. It was very uplifting."
"Dolan has been a customer of ours since the mid-1980s and has been an amazing partner for us, helping us to continually improve our software and services," said Jim Flynn, President & CEO of Maxwell Systems. "It is no surprise that Patrick Dolan was one of the project leads and the team at Dolan Construction was so actively involved in this great cause. What they have done for the Urban family is remarkable. We are looking forward to seeing the show on October 24 and applaud everyone at Dolan Construction for giving their time and expertise to an obviously worthy family."
Dolan Construction Inc. is a full-service general contractor, design build contractor, and construction manager providing quality pre-construction and construction services to areas in and around Pennsylvania since 1977. With an exceptional project history and reputation as its foundation, Dolan has created an organization that takes pride in all that it does, and continues to build strong into the future.
ABOUT MAXWELL SYSTEMS
Maxwell Systems is a leading provider of complete construction business management and property management software solutions and services. Founded in 1975, Maxwell Systems is dedicated to helping its 10,000 customers streamline their estimating, job cost accounting, and project management processes and improve profitability. To deliver true end-to-end control of critical business processes, the company's product offerings include: ProContractorMX™, American Contractor™, Management Suite™, StreetSmarts®, and Estimation®. To further help customers grow their business while maximizing the return on their technology investment, Maxwell Systems provides comprehensive support and maintenance, training, and consulting. The company's headquarters are in King of Prussia, Pa., with offices in Baltimore, Md., Fort Collins, Colo., Santa Cruz, Calif., and Sarasota, Fla. More information is available at www.maxwellsystems.com.
© 2010 Maxwell Systems, Inc. All Rights Reserved. Maxwell Systems, ProContractorMX, American Contractor, and Management Suite are trademarks and Estimation and StreetSmarts are registered trademarks of Maxwell Systems, Inc. Other trademarks are property of their respective owners.
Contact Information:
Media Contacts:
Andrea Frassoni
Maxwell Systems, Inc.
800-688-8226, ext. 1240