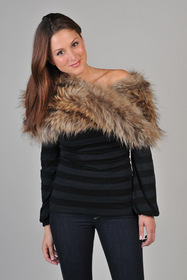 A Twist On Scarves: Introducing the scarf shape of the season: Natural Raccoon Stretch Twist Capelet **NEW **
MINNEAPOLIS, MN--(Marketwire - October 25, 2010) - Fall fashion trends are taking center stage, and there's nothing like affordable fur accessories to grab this season's spotlight. According to Norma Jean Kirchner, designer of Cedric's Luxe Collection (http://www.CedricsLuxe.com), 2010 top 5 fall trends in luxury fur accessories are a reflection of the confident, individual style of today's modern woman.
"Today's woman has an individual style and wants the perfect finishing touches," says Norma Jean Kirchner. "Cedric's Luxe Collection caters to all of these women, truly complementing unique styles with versatility and affordability."
(Watch Cedric Kirchner live on ShopNBC, Thursday, October 28 at 8:00am, 12:00pm and 4:00pm CT.)
Cedric's Luxe Collection 2010 Top 5 Fall Trends in Luxury Fur Accessories
1. Animal-Print Accents: Go ahead. Stop traffic.
Nobody knows animal print fur accessories like Norma Jean. Her exclusive pieces suit every price range, like this to-die-for animal print reversible black scarf with suede fringe, or these show-stopping gloves -- the strongest accessory trend this season.
2. Hot Color Picks: Flirt with an upbeat palette of fun new colors.
Be bold this season with a splash of color! Add a little excitement to your wardrobe with a vibrant neon colored Mongolian lamb vest in fuchsia, tangerine or acid green. Must-haves include the foxy fling or cowl in purple.
3. The White Touch: Platinum white-hot pieces that sizzle.
Cedric's foxy new modern jacklet in platinum is sizzling hot! This modern silhouette is a luxe look with a gutsy edge, designed for the woman looking for a smart choice in woven fox.
4. A Twist On Scarves: Introducing the scarf shape of the season -- the funnel scarf!
Get looped with the season's must-haves! Think instant-chic with this fox fur cowl and or choose this stretchable raccoon or fox twist capelet (shoulder wrap) for a more dramatic look.
5. Capes and Ponchos: A dashing alternative to the jacket.
These smart, wearable silhouettes are infused with a fresh and modern sensibility that is both ultra-elegant and sporty-chic. This dramatic cape is encircled with fringe and features a cowl collar.
Need more? Visit Cedric's Luxe Collection online at www.CedricsLuxe.com. Sign up on the website to become a Cedric's Luxe Insider to view exclusives and receive top values before anyone else! Follow us on Facebook and at http://Twitter.com/Cedricsluxe.
For more information on show times on ShopNBC, click here, keyword Cedrics.
Contact Information:
Media Contact

Angela Singletary
919-986-1074