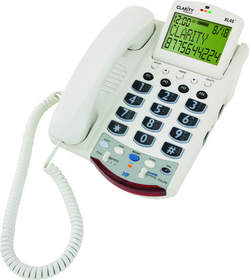 Arkansas Program Introduces New Clarity XL45 Amplified Phone, Free for Residents with Hearing Loss
LITTLE ROCK, AR--(Marketwire - November 8, 2010) - The estimated 200,000 Arkansas residents with hearing loss can now obtain at no-cost an innovative new amplified phone that makes conversations easier to understand. The Arkansas Telecommunications Access Program (TAP) is offering the Clarity XL45, a new amplified phone that reduces background noise while amplifying the incoming voice, to Arkansas residents who are certified as having a hearing loss.
Designed by Clarity, a division of Plantronics (NYSE: PLT), the XL45 features a digital technology traditionally found only in hearing aids to amplify incoming sounds up to 50 decibels. The phone additionally features caller ID, an easy-to-read screen and large big buttons for users with arthritis and vision loss.
Carsten Trads, president of Clarity, said, "Not only does the Clarity XL45 lead the industry in noise cancellation and amplification, but it hosts the breakthrough ClarityLogic technology to customize and simplify each phone for the user."
ClarityLogic® is a patented, first-of-its-kind service that enables customer representatives to remotely access and optimizes the phone for the end-user. It provides less frustration to seniors by significantly speeding up the customer service process and peace of mind knowing they don't have to trouble friends or family with technical help. Arkansas residents simply need to dial the ClarityLogic 1-800 number and they will be quickly connected to a customer representative who can then access the user's product and make adjustments, such as increasing or decreasing amplification levels; adjusting tone; programming the phonebook; or customizing speed dial.
Adds Trads, "Just as no two individual cases of hearing loss are the same, so should our products reflect those varying needs. We are truly excited to be part of a program that is making people's lives easier."
The Clarity XL45 is free to any Arkansas resident who has a disability that has been certified by a qualified professional that prohibits use of a standard telephone and makes $50,000 a year or below. If the applicant makes more than $50,000, a shared cost option is available. Applicants can call 1-800-981-4463 to receive more information about this and other available phones, or can download the application online here.
About the Arkansas Telecommunications Access Program
The Arkansas Telecommunications Access Program is a program of the Arkansas Department of Career Education, Arkansas Rehabilitation Services Division that provides telecommunication equipment to eligible individuals. The program serves Arkansans who are deaf, hard of hearing, deafblind, speech impaired, or who have a visual, physical and cognitive disability that impairs their ability to effectively access the telecommunications network.
About Clarity
Clarity® is a leading supplier of amplified telephones, notification systems, assistive listening devices and other communications devices for those with hearing loss. A leader in sound amplification, Clarity's patented technologies, Clarity® Power™ and Digital Clarity Power™, provide customized solutions for customers who otherwise could not communicate easily and effectively with the outside world. As more people begin to address their hearing needs, Clarity will continue to provide effective technologies that are simple and easy to use. For more information about Clarity and its products, please call 1-800-426-3738 or visit www.clarityproducts.com.