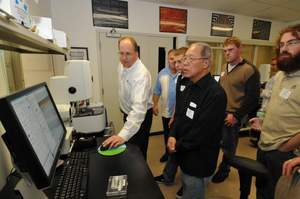 Dr. John Ireland, Director of the NanoProfessor Nanoscience Education Program, demonstrates the hands-on nature of NanoInk's NLP 2000 to College of Lake County and Harper College students.
CHICAGO, IL--(Marketwire - November 8, 2010) - NanoInk, Inc.®, a global leader in nanotechnology, announced today that students and faculty from College of Lake County and Harper College visited NanoInk's headquarters to learn more about the company's exciting nanotechnology-based businesses and meet with NanoInk employees.
During their visit, students listened to NanoInk CEO, James Hussey, speak about the growing need for nano-savvy employees and learned about the benefits that NanoInk's different commercial divisions -- NanoFabrication Systems, Nano BioDiscovery, NanoProfessor™, and NanoGuardian™ -- hold for society. Following presentations from NanoInk's business leaders, the students toured the Nano BioDiscovery and NanoProfessor Nanoscience Education Labs.
"My students were fascinated to see first-hand the various ways NanoInk is impacting our world today and into the future. The exposure to several commercially viable nano-based businesses provided them with additional motivation to continue on their nanotech educational path," said Ahmad Audi, Ph.D., chair of the nanoscience technology program at College of Lake County. "NanoInk understands the impact nanotechnology can have on our future, and perhaps more importantly, they also recognize that now is the time to provide hands-on training that prepares students to meet the growing demand for a nano-savvy workforce."
Dean Hart, executive vice president of NanoInk said, "We are excited to have had the opportunity to host students from College of Lake County and Harper College and showcase nanotechnology's use in real-world commercial applications. We are also pleased that we were able to provide students with a chance to engage with NanoInk employees and discuss the ample career possibilities within the evolving field of nanotechnology. Along with our NanoProfessor Nanoscience Education Program, we see this outreach as another way we can support President Obama's 'Educate to Innovate' campaign to improve the performance of America's students in science, technology, engineering, and mathematics (STEM) education."
NanoInk's NanoFabrication Systems Division brings sophisticated nanofabrication to the laboratory desktop in an easy-to-use and affordable setting. NanoInk's NLP 2000 System is a desktop nanofabrication system that allows researchers to rapidly design and create custom-engineered and functionalized surfaces, using Dip Pen Nanolithography® (DPN®) to transfer minute amounts of materials over a large, environmentally controlled work area.
NanoInk's Nano BioDiscovery Division provides a new generation of array-based instrument systems, assay kits, and contract services for nanoscale protein detection. By combining DPN nanofabrication technology with optimized substrates and next-generation detection systems for a total system solution, Nano BioDiscovery helps its customers address major proteomic challenges.
NanoInk's NanoProfessor Nanoscience Education Program aims to expand hands-on nanotechnology education from the clean rooms of research-based universities to undergraduate classrooms. The program alternates between classroom lectures and hands-on lab work and includes a 275-page textbook authored by leading nanotechnology experts covering the topics of Nanotechnology Basics, NanoPhysics, NanoChemistry, NanoBiology and Environmental, Health, and Safety perspectives on nanotechnology. For more information on how the NanoProfessor Nanoscience Education Program can be implemented at your community college, technical institute, high school, or university, please call (847) 679-NANO (6266) or visit www.NanoProfessor.net.
NanoInk's NanoGuardian Division focuses exclusively on delivering brand protection solutions to fight illegal diversion and counterfeiting. Anchored by NanoInk's novel NanoEncryption™ technology, NanoGuardian enables manufacturers to authenticate and trace the integrity of their products across the supply chain.
About NanoInk
NanoInk, Inc. is an emerging growth technology company specializing in nanometer-scale manufacturing and applications development for the life sciences, engineering, pharmaceutical, and education industries. Using Dip Pen Nanolithography® (DPN®), a patented and proprietary nanofabrication technology, scientists are enabled to rapidly and easily create micro- and nanoscale structures from a variety of materials on a range of substrates. This low cost, easy-to-use, and scalable technique brings sophisticated nanofabrication to the laboratory desktop.
Headquartered in the Illinois Science + Technology Park, north of Chicago, NanoInk currently has over 250 patents and applications filed worldwide and licensing agreements with Northwestern University, Stanford University, University of Strathclyde, University of Liverpool, California Institute of Technology, and the University of Illinois at Urbana-Champaign. For more information on products and services offered by NanoInk, Inc. visit www.nanoink.net.
About College of Lake County
The College of Lake County (www.clcillinois.edu) is located in Lake County, Illinois in the far northeastern suburbs of Chicago. CLC serves a district with the third largest population in the Illinois community college system -- 713,000 residents living in more than 50 demographically distinct communities. The college has a diverse student body with more than 18,000 students in credit programs. CLC offers a wide range of academic program choices to meet students' educational needs at different points in their lives. Program areas include transfer, career, professional development, small business, personal enrichment, GED, and adult basic education. Spring semester 2011 enrollment is now under way -- classes begin January 18, 2011.
Through a partnership with Harper College in Palatine, Illinois, CLC students may complete an Associate in Applied Science (A.A.S.) degree in Nanoscience Technology. CLC nanoscience technology courses are taken at the college's Southlake Campus in Vernon Hills. Forty-three credits are taken at CLC and 21-23 credits are taken at Harper. The degree is granted by Harper upon successful completion of all program requirements. Students use the latest equipment at the CLC Southlake Campus -- including an atomic force microscope and a scanning electron microscope -- equipment often found only in major research universities and in industrial research settings. For information about CLC's nanoscience technology program, contact Ahmad A. Audi, Ph.D., Department Chair at (847) 543-6537 or aaudi@clcillinois.edu. Visit the program's web page at http://www.clcillinois.edu/programs/nan.
About Harper College
Harper College is one of the nation's premier community colleges and one of the largest, serving more than 40,000 students annually in Chicago's northwest suburbs. The College's academic programs prepare students for rewarding careers and for transfer to four-year universities. Harper offers associate degree and certification programs, advanced career programs, workforce training, professional development, continuing education classes, accelerated degree options for adults and developmental education programs. For more information, visit www.harpercollege.edu or call (847) 925-6000.
Contact Information:
Contacts:

Christina Bereta
Dresner Corporate Services
(312) 780-7218
cbereta@dresnerco.com

Joshua Taustein
Dresner Corporate Services
(312) 780-7219
jtaustein@dresnerco.com