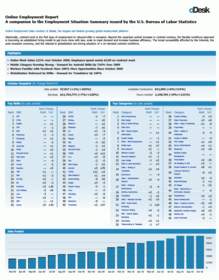 October Online Employment Report
REDWOOD CITY, CA--(Marketwire - November 8, 2010) - oDesk, the largest and fastest-growing global employment platform, announced today findings from its October Online Employment Report. Most notably, demand for Android skills has grown an astonishing 710 percent in October 2010 as compared with October 2009, reflecting the rise in popularity of mobile applications as well as the Android platform itself. The report, which tracks trends in online employment, also shows a steady increase in online contract work overall, underscoring the critical role it continues to play in a post-recession economy. Contract work at oDesk increased 121% in October relative to October 2009.
The boom in demand for Android skills appears to be the result of two distinct trends. First, as a byproduct of our connected society, mobile business applications are emerging as an important tool to gain a competitive edge in the marketplace and to optimize a critical business workflow. Across all platforms, the number of jobs requiring proficiency in mobile applications is growing.
Second, the introduction of a variety of new mobile phones on multiple carriers over the past year has generated huge momentum for the Android platform. Add to this the launch of the Android Market -- along with the easy access to mobile applications it provides to millions of users -- and developing for the platform has become very attractive to businesses of all sizes. While iPhone development is still very much in demand, the recent rapid growth of interest in developing for the Android platform is positioning it for ongoing expansion.
According to oDesk, roughly 350 Android positions were posted on oDesk during 2009. That number has more than doubled in the past month alone.
Key findings from the oDesk Online Employment Report showed:
Employers spent nearly $12 million on contract work in October. Correspondingly, the number of hours online contractors worked rose 121 percent over October 2009.

Workers familiar with Facebook have 190 percent more job opportunities today vs. the same time last year, illustrating social media's developing role in businesses.

Demand for translators in the SMB market has grown to 340 percent over 2009. President Obama made a call to action[1] for SMBs to grow and expand overseas, which may be a key driver in the growing interest for translation workers.
"The monthly Online Employment Report enables critical insight into the types of skills being requested by employers across industries," said Gary Swart, oDesk CEO. "From proficiency in mobile applications to SEO knowledge to management positions, the Online Employment Report helps employers keep a finger on the pulse of demand for workers. It also serves as a valuable tool for contractors as they figure out how to cultivate stronger skill sets that will help them provide the most value to their employers."
For more statistics or to view oDesk's October Online Employment Report in its entirety, please visit http://www.odesk.com/w/online_employment_oct2010.
About oDesk
With over 820,000 contractors and 220,000 employers in more than 150 countries, oDesk (www.oDesk.com) is a global employment platform which enables companies to hire, manage, and pay a flexible online workforce.
For employers: Guaranteed work -- every hour billed is an hour worked. Screen captures of each contractor's desktop taken at random intervals allow employers to audit the hours and the work completed, so they have confidence every hour billed by a remote team member is an hour worked. This capability also enables the employer to collaborate closely and re-direct the contractor if necessary, much like you do when you manage by walking around your office.
For contractors: Guaranteed payment -- every hour worked is an hour paid, without the hassle of invoicing or slow-paying clients, making oDesk the preferred platform for professional contractors, including software engineers, web developers, graphic designers, writers, researchers, administrators and customer service agents.
Find oDesk on Facebook at: www.facebook.com/oDesk
Follow oDesk on Twitter at: www.twitter.com/oDesk
[1] "State of the Union Address," State of the Union Address Library, http://stateoftheunionaddress.org/2010-barack-obama.
Contact Information:
MEDIA CONTACTS:
Erica Benton
oDesk

+1-415-738-7718 ext. 2