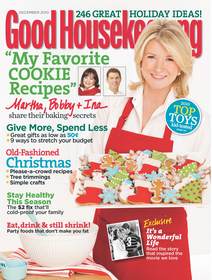 Good Housekeeping's 2010 Best Toy Awards are kid- and safety-tested; revealed in the December issue.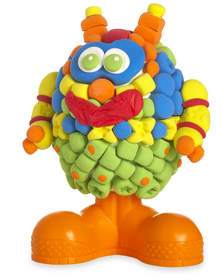 Good Housekeeping's 2010 Best Toy Awards: Crayola's Model Magic Presto Dots won't stick to most surfaces, but molds easily to the monster-making forms. Load the dot-making tool to design colorfully bumpy creatures ($12; ages 5+).
NEW YORK, NY--(Marketwire - November 9, 2010) - Every year, parents search store shelves for the perfect toys for the holidays, but are they safe and will kids really enjoy playing with them? To help readers find out, Good Housekeeping reviewed hundreds of toys for safety, and their ability to spark children's imaginations and skill-building capabilities. After narrowing down the list to the most promising 75 toys and board games, Good Housekeeping brought almost 100 kids, ages 4 to 16, into the Research Institute, the magazine's state-of-the-art product testing laboratory in New York City, to test the toys' fun factor. Board games were also sent home with families to assess their enjoyment over the course of a month. The winners of Good Housekeeping's 2010 Best Toy Awards are revealed in the December issue, on sale today.
The engineers and scientists at the Good Housekeeping Research Institute evaluated new toys across four different categories: ages 3 to 5, ages 5 to 8, ages 8+, and board games. Before being evaluated by Good Housekeeping's kid testers, all toys were required to pass the Research Institute's quality and safety evaluations, including a drop test to determine if a toddler toy can break into small pieces and pose a choking hazard. Before being selected as winners, the toys and board games were also reviewed to ensure they meet industry safety standards. For four days in the lab and over a month at home, 98 kid testers played with the top toys that passed the Research Institute's evaluations to select the 24 award winners. The toys selected promote artistic, scientific, hand-eye coordination and other skills, ranging in price from $10 to $80.
"With an increasing number of recalls in the children's product category, our readers are concerned about buying safe, quality products for their families," said Rosemary Ellis, editor-in-chief of Good Housekeeping. "Parents can feel confident that our Best Toy Award winners are safe and fun, and encourage their kids' creativity, too."
As a bonus, starting on Black Friday, November 26, Good Housekeeping is making the season even brighter for readers with daily giveaways of Best Toy Award winners. The contest runs through Friday, December 10, with toys from the list given away each day to multiple winners and on the last day, winners will receive a selection of board games from the list. Follow Good Housekeeping on Twitter for more information and to participate in the contest: www.Twitter.com/goodhousemag.
Good Housekeeping's 2010 Best Toy Award winners are:
Fisher-Price's Dance Star Mickey ($70; ages 2+): Don't let the low age rating of Dance Star Mickey deter you -- everyone in Good Housekeeping's lab got in on the act when Mickey made his moves. The groovin' mouse brings down the house with games Mickey Says and Freeze Dance -- and he does one mean moonwalk.

iPlay's Shop 'n Cart ($35; ages 3+): Good Housekeeping's pint-size shoppers were practically dancing in the aisles over Shop 'n Cart. Stocked with lots of pretend food and play money, this child-size cart with a seat for a baby doll has all that's needed for a make-believe grocery trip.

Leapfrog's Leapster Explorer ($70; ages 4+): With a touch screen and a stylus, kids can turn eBook pages with the flick of a finger and write on the screen. Parents see what their child learns on a personalized Web page. Choose from 40+ games ($25 each), and download free books and videos.

Learning Resources' Primary Science Set ($30; ages 4+): This science set sparks kids' curiosity as they gather household objects for the experiments. While using lemon juice to make dull pennies shine or getting raisins to "jump" with carbonated water, they'll pick up basic scientific principles -- and have fun while doing it.

Playmobil's Wildlife Care Station ($70; ages 4+): The deluxe Wildlife Care Station lets kids play veterinarian to a wounded giraffe and imagine endless adventures with other jungle animals. Smaller kits are available ($13 to $40).

Crayola's Model Magic Presto Dots ($12; ages 5+): The smooth, squishy dough won't stick to most surfaces (like kids' skin or clothing), but molds easily to the monster-making forms. Load the dot-making tool to design colorfully bumpy creatures.

Jakks Pacific's Toy Story Mania ($50; ages 5+): Plug into a TV, don 3D glasses, and move the Wii-like controller to steer Buzz and friends through on-screen obstacle courses and more. Though it's rated younger, older children have the hand-eye and reaction skills for mastery.

Real Construction's Deluxe Tool Set ($25; ages 5+): This tool set has all the creativity of carpentry with none of the dangers. The foam "wood" cuts easily with plastic tools and attaches neatly together with plastic screws. Testers proudly built vehicles, buildings, and more.

Silverlit Toys' Iron Man 2 Iron Trike ($40; ages 5+): Good Housekeeping's thrilled testers sent the Iron Man 2 Iron Trike zooming down halls, but with the big plastic wheels, it didn't mar walls during the inevitable bumps and head-on crashes.

Bandai's Harumika ($10 to $40; ages 6+): Dressing up dolls is a lot more inspiring now. Each set includes fabrics and trims for styling runway-ready ensembles. And there's no cutting or sewing: A flat plastic tool helps insert the material into a groove in the back of each form.

Spy Gear's Lie Detector Kit ($15; ages 6+): One child places two fingers on the sensor while another asks the tough questions. The clever contraption reads skin surface moisture to determine if the "suspect" is on the up-and-up. Lights blaze to indicate the probability of deceit.

ThinkGeek's Electronic Guitar Shirt ($30; ages 6+): Keeps music close to a child's heart -- literally. The wearer turns on the amp and strums in front of the shirt with the magnetic pick to produce chords. Now that's a rockin' air guitar! Available in both children's and adults' sizes -- you can start a band.

Creativity for Kids' Wind-Up Workshop Robots ($15; ages 7+): Melding art and technology, these robots come with the chassis, material to construct robot bodies, and decorative stickers to assemble a fleet of five mobile mini androids.

Hasbro's Bop-It! Bounce ($20; ages 8+): The elastic-free version of paddleball combines electronic gaming with good old-fashioned active play. Bounce the foam ball off the flat side of the base, playing games that offer time and speed challenges, among others.

Jakks Pacific's Spy Net Video Watch ($50; ages 8+): A wearable video camera and sound recorder in disguise, capable of taking and storing up to 20 minutes of color video, four hours of audio, or 2,000 photos -- or a combo of all three.

Tonka's Garage Ricochet RC ($80; ages 8+): A dual-sided remote-controlled vehicle that's designed to flip and keep on racing. The touch of a button activates the hydraulics, moving the car's body upward so it can speed right over small objects.

Wild Science's Perfect Perfume Laboratory ($15; ages 8+): Lets kids choose among rose, mint, eucalyptus, and jasmine to create a signature fragrance. Or make rock-candy-like potpourri crystals and "sublime-smelling slime." Instilled during the fun: chemistry skills such as extraction, filtration, and measuring.

Air Hogs' Hawk Eye ($65; ages 12+): This super chopper takes color video (up to five minutes' worth) or photos (hundreds) while in flight. Once it's grounded, plug it into a computer to recharge (in about 15 minutes) and to download and edit footage with the included software.

Plus, the top six board games for beating cabin fever for kids ages 3 to 10+
For more of Good Housekeeping's top-rated toys including the Best Toy Award winners in the board game category and honorable mentions for all categories, visit www.goodhousekeeping.com/toyawards.
Photos of Good Housekeeping's Best Toy Awards are available upon request.
About Good Housekeeping
Founded in 1885, Good Housekeeping (www.goodhousekeeping.com) magazine reaches 25 million readers each month. In addition to the print title, there is The Good Housekeeping Research Institute, the consumer product evaluation laboratory of Good Housekeeping magazine. Founded in 1900 and continuing today with the same mission, the Research Institute is dedicated to improving the lives of consumers and their families through education and product evaluation. Only products evaluated by the Good Housekeeping Research Institute can be accepted for advertising in the magazine, and thereby become eligible to display the Good Housekeeping Seal, the hallmark that provides assurance to readers that the products advertised in the magazine are backed by a two-year limited warranty against being defective, with specified exceptions. Readers can also interact with the brand on the digital front, with Good Housekeeping mobile (m.goodhousekeeping.com). In addition to its U.S. flagship, Good Housekeeping publishes 15 editions around the world. Good Housekeeping is published by Hearst Magazines, a unit of Hearst Corporation (www.hearst.com) and one of the world's largest publishers of monthly magazines, with more than 200 editions around the world, including 14 U.S. titles and 20 magazines in the United Kingdom, published through its wholly owned subsidiary, The National Magazine Company Limited. Hearst Magazines is a leading publisher of monthly magazines in the U.S. in terms of total circulation (ABC June 2010) and reaches 73 million adults (MRI Spring 2010).
Contact Information:
Media Contacts:
Kelly Carone Abdo
212.649.2321
kcaroneabdo@hearst.com