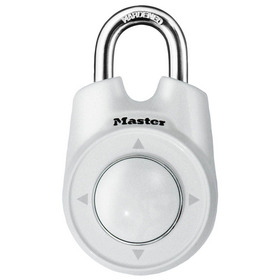 Master Lock's 1500iD Speed Dial Set-Your-Own Combination Lock
The 1500iD Speed Dial is easy to use and fast. Check out how to operate it here.
MILWAUKEE, WI--(Marketwire - November 9, 2010) - Master Lock was recognized at the ninth annual Chicago Innovation Awards last week for forever altering the way combination locks function with its 1500iD Speed Dial Set-Your-Own Combination Lock and the lock's first-of-its-kind directional combination system.
The Master Lock Speed Dial and nine other products were chosen as winners from more than 332 nominees representing the Chicago region's most innovative new products and services brought to market throughout the past year. Judges evaluated each entry on its success as a new product, the service it provides and its ability to uniquely satisfy unmet needs in the marketplace.
"We're thrilled to have been honored for this innovation, which has proven to be one of the most successful new product launches that we've had in years," said Rebecca Smith, vice president, marketing for Master Lock. "Consumers can continue to expect more distinctive security products to meet their unique needs from Master Lock in the future."
The revolutionary Speed Dial features technology that won't be found in any other padlock. It is the world's first combination lock that opens on up, down, left and right directional movements making it faster, easier and more secure than rotary dial combination locks. The lock is faster to open than traditional locks, saving users valuable time as they hurry to and from class or their workouts at the gym. The innovative lock is customizable, allowing users to create their own easy-to-remember, resettable combination with any number of movements in any sequence. For those who prefer more traditional methods of recalling their combination, the lock includes adhesive letters, numbers, colors, shapes and symbols that can be applied over the lock's directional arrows. It also offers a helpful solution for people who are visually impaired, as users don't need to see the dial to open it.
The 1500iD Speed Dial Set-Your-Own Combination Lock is available at retailers and e-tailers nationwide, with a suggested retail price of $8.99. More information can be found here.
About Master Lock
Master Lock is the world's largest manufacturer of padlocks and related security products providing innovative security solutions for home, automotive, campus, power sports, bike and storage security needs for consumers and contractors alike. Master Lock Company LLC is an operating unit of Fortune Brands, Inc., a leading consumer brands company. Headquartered in Deerfield, IL, Fortune Brands (NYSE: FO) is included in the S&P 500 Index.
About the Chicago Innovation Awards
Kuczmarski & Associates and prominent local journalist Dan Miller established the
Chicago Innovation Awards in 2002 as an annual program to honor significant innovations introduced by Chicago-area companies and to focus attention on the creative spirit of the Chicago Region. www.chicagoinnovationawards.com/.
Contact Information:
Contact:
Hannah Schroder
(630) 932-7938
hannah@jsha.com

Laura Colar
(630) 916-3047
laurac@jsha.com