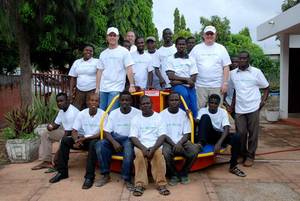 Matt Miller, Ben Markham and Ghana team.
LEWISBURG, PA--(Marketwire - November 9, 2010) - Playworld Systems, a leading manufacturer of imaginative playground equipment, today announced an exclusive partnership with Empower Playgrounds, Inc., a non-profit organization that provides renewable energy to villages in Ghana through electricity-generating playground equipment and smart LED lanterns. By lending its research and development resources, materials and facilities, Playworld Systems is helping Empower Playgrounds further its mission by accelerating production of the play equipment -- merry-go-rounds known as "whirls" -- that generate power while the kids play during the day for portable lanterns that light evening activities at home.
Ben Markham, a retired ExxonMobil engineer from Utah, founded Empower Playgrounds in 2007 after spending time in Ghana as a missionary. He observed that the schoolchildren lacked two important things: play equipment and light. The latter presents a major barrier to their education, as most children in Ghana work on family farms immediately after school and have no light for schoolwork or reading once the sun goes down.
"Ben's mission to help the children of Ghana through the combination of play and light is deeply inspiring," said Matt Miller, CEO of Playworld Systems. "We believe play and education are both vital to the human experience, regardless of geography, age or ability. We're ecstatic to work with Empower Playgrounds to help enrich the lives of others in such a profound and innovative way."
Approximately 3,000 children have access to the whirls, which have been installed by Empower Playgrounds in the most remote and deprived villages. This week, Markham and Miller are in Ghana to install two prototypes of the new whirls manufactured by Playworld Systems. By 2012, they plan to make the power-generating systems available to developing nations across the globe. Miller will be blogging about his experience on Playworld's new blog, www.playbyplayworld.com.
"Enabling students to study and read at night is a life-changing development for families living in isolated areas of Ghana," said Markham. "Working with Playworld Systems to develop and install new whirls allows Empower to bring light to more villages in Ghana and beyond at a much faster rate than we would have been able to on our own."
Empower Playgrounds provides the whirls and lanterns at no cost to rural villages. Once the equipment is installed, power is produced as the kids play. The lanterns are a specially modified camping lantern developed for Empower Playgrounds by Energizer Battery, Inc. These rechargeable lanterns can operate 40 hours at full power before needing to be recharged. The Empower Playgrounds system also includes a hands-on science kit that enables local educators to also use the whirls as learning opportunities for their students.
About Playworld Systems, Inc.
Playworld Systems, a third-generation family-owned company headquartered in Lewisburg, Pa., has been a leader in imaginatively designed and customized commercial recreation and playground equipment for more than 30 years. With the belief that The World Needs Play®, Playworld Systems creates equipment that brings the joy of play to people of every age through such innovative product lines as ENERGI®, LifeTrail® Advanced, Playworld™ PlayDesigns®, and NatureForms™. Playworld Systems has invested significant resources to measurably reduce its carbon footprint, from eliminating PVCs to enhancing its waste management and recycling programs. In fact, Playworld Systems is the first major U.S. playground manufacturer to remove 99.999 percent of PVC from its products.
The company has received numerous awards throughout the years, including two International Industrial Design Excellence Awards, a gold medal from International Design magazine, two News Directors' Choice Awards on Early Childhood, and the Pennsylvania Governors' Award for Safety Excellence. Along with these awards, Playworld Systems was a consultant to the Architectural and Transportation Barriers Compliance Board (Access Board). For more information, visit: www.PlayworldSystems.com.
About Empower Playgrounds, Inc.
Empower Playgrounds, Inc. is a non-profit organization that enhances education in rural Ghanaian schools by providing electricity-generating playground equipment, portable LED lanterns, and hands-on science kits and curriculum. For more information, visit: www.empowerplaygrounds.org.