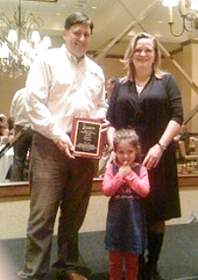 WISP operator Matt Larsen, founder of Vistabeam, WISPA's treasurer and co-founder, was chosen as WISP Operator of the Year and was presented the award by WISPA president Elizabeth Bowles.
DALLAS, TX--(Marketwire - November 10, 2010) - On Tuesday, November 2nd, 2010, the Wireless Internet Service Providers Association (WISPA), which represents Fixed Wireless Broadband providers, held its annual meeting and awards dinner during The Broadband Expo at the Gaylord Texan Resort and Convention Center in Dallas.
Sponsored by WISPA and Oxford Expositions, The Broadband Expo was a collection of broadband providers, vendors and trade groups, including those who provide broadband over fixed wireless, fiber and satellite. The program included educational tracks aimed at the different providers all of whom work together to realize the American dream of rural broadband.
Keynote speakers included DISH TV's CEO and co-founder Charlie Ergen who spoke on the opportunities for Fixed Wireless to complement his product for broadband delivery. The US Department of Agriculture (USDA), Rural Utilities Service (RUS) Administrator, Jonathan Adelstein spoke about the successful and on-time awards made this year under the Broadband Stimulus and RUS programs for grants or loans to wireless ISPs (WISPs) across America.
At the WISPA Awards Dinner members were recognized for their outstanding efforts over the past year in promoting the industry.
WISPA Visionary Awards were given to Steve Coran, partner in the Rini Coran law firm, which represents WISPA in Washington, D.C. and Jack Unger, Chair of WISPA's FCC Committee. "This is an honor; this recognition inspires me as we take our organization to the next level," Coran said.
Ubiquiti was chosen as both WISP Product and Vendor Member of the year. WISP operator Matt Larsen, founder of Vistabeam, WISPA's treasurer and co-founder, was chosen as WISP Operator of the Year.
"We would not be here if it weren't for Matt Larsen's unbelievable hours of dedication," said WISPA Executive Director Rick Harnish. Membership has grown in all categories as WISPs realized the benefits of supporting a trade group dedicated to the growth of their businesses. During 2010, WISPA achieved significant success in TV White Spaces advocacy and Terminal Doppler Weather Radar interference reduction. In the coming year, WISPA plans to reach out to other ISP associations to find areas of common interest, especially with regard to advocacy.
WISPA president Elizabeth Bowles thanked all of WISPA's members. "Everyone works hard, and nothing is possible without you."