Take a tour of JCM Global's award-winning iVIZION bill validator.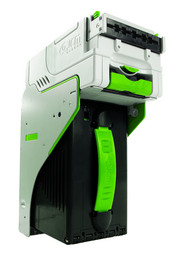 JCM Global's award-winning iVIZION bill validator is the foundation of intelligent validation and will appear at the Global Gaming Expo Nov. 16-18.
LAS VEGAS, NV--(Marketwire - November 11, 2010) - For more than two decades, JCM Global has been a big name in the global gaming industry, providing big solutions and winning big awards. Now at the upcoming Global Gaming Expo, JCM will invite the gaming industry to catch the "VIZION." To help, JCM's booth will feature the world's biggest bill validators, as well as award-winning currency solutions and an incredible, hi-def video wall.
The world's biggest bill validators will tower 13 feet and are part of JCM's celebration of its new and award-winning iVIZION®, the better, faster, smarter solution for the gaming industry. iVIZION forever changes the way the gaming industry sees banknote validation. It is the foundation of intelligent validation and sees better, thinks smarter and runs faster than any comparable product in the industry.
iVIZION's ability to see better comes from its Contact Image Sensor (CIS) Technology, combined with transparency and reflective sensors that scan 75 times more data points than competitive products. The result is the most powerful sensor capabilities available, giving operators a 99%+ acceptance rate on valid banknotes and the most diligent counterfeit protection.
Backed by 20 years of JCM Global currency software development, iVIZION thinks smarter than any other bill validator by capturing and storing each transaction on the RFID ICB cashbox, featuring encrypted and web-enabled data, 64 megabit FLASH memory, a self-calibrating sensor package, modular component design, and the ability to read barcodes horizontally and vertically.
iVIZION runs faster than any other bill validator with its two high-speed processors, sealed 85 mm banknote path, patented and proven removable stacker mechanism, "Blind Mate" and "Hot Swap" design and complete compatibility with all gaming protocols.
iVIZION is the foundation of intelligent validation and was built to be future-proof. Because it offers both open and proprietary data protocols, the development roadmap includes implementation of Sentry 2.0™ today, Managed Services tomorrow, and other operator and player enhancements in the future. Additionally, iVIZION deploys JPL, or JCM Private Line, for transmission of custom transaction management application data and future enhancements.
Stretching across JCM's booth is an incredibly sharp, hi-def video wall from Samsung. JCM supplies Samsung and other top brand display solutions in a wide range of sizes for myriad needs to operators across North America. The video wall on display is a dazzling three panels high x three panels wide, measuring a total of 11.5 diagonal feet.
JCM will also be showing the new Sentry 2.0™ smart bezel that communicates with players in four languages and a wide range of other validation solution equipment.
JCM Global is the automated transactions solutions provider trusted by operators and manufacturers alike. Its global offices provide top-level sales, engineering and service for the world's best systems solutions for the banking, gaming, kiosk and retail industries. JCM Global sets standards with products such as the Universal Bill Acceptor (UBA®), Intelligent Cash Box (ICB®), the Vega™ bill validator and the new iVIZION™ bill validator. For more information, visit www.jcmglobal.com.
Contact Information:
Contact:
Paul Speirs
Steinbeck Communications
(702) 413-4278