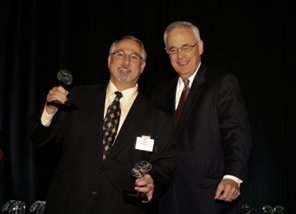 MSI's CFO, Ron Warren receives awards from HBJ's John Beddow
HOUSTON, TX--(Marketwire - November 11, 2010) - MicroSeismic, Inc. (MSI) and its Co-founder and President Peter M. Duncan, Ph.D. were recently honored as Houston area technology innovators by organizers of the Houston Fast Tech 50 awards. MSI was recognized as one of Houston's 50 fastest-growing technology companies for 2010, while Duncan was singled out as a 2010 Enterprise Champion by the Fast Tech 50 sponsor panel.
MSI, which was ranked No. 24 on the Fast Tech 50 list, is a seismic service company specializing in real-time monitoring of low-energy, microseismic events that occur during oilfield production activities, most notably hydraulic fracturing of gas shales and other low permeability reservoirs. While most oilfield seismic technology uses geophones lowered close to the reservoir to monitor seismic events, MSI uses its pioneering FracStar® surface arrays or near-surface BuriedArray™ service with permanently installed geophones to monitor an area of up to 500 square miles, without the need for a monitoring well. This technology offers a lower cost means of monitoring the effectiveness of a frac stimulation treatment and enables an operator to better manage a reservoir throughout its productive life.
"MSI is honored to be recognized with such a prestigious award as the Fast Tech 50," said Duncan. "Our year-over-year growth of 350 percent, coupled with our investment in industry-recognized senior leaders and talented geoscientists, have played an integral part in our continuing success."
As an Enterprise Champion, Duncan joined other top executives from some of the honored businesses to share both his company's future goals and what he considers the silver lining of a sagging economy. These insights were published exclusively in the Houston Business Journal's November 5, 2010 issue. http://www.bizjournals.com/houston/news/2010/11/05/hbj-names-fast-tech-50-winners.html
About MicroSeismic Inc.
MicroSeismic, Inc. (MSI) is a geophysical service company providing real-time monitoring and mapping of hydraulic fracture operations for the development of unconventional oil and gas plays. Founded in 2003, MSI is the pioneer in monitoring passive microseismic activity utilizing surface arrays and permanent, near-surface arrays. These arrays eliminate the expense of offset monitoring wells, allow multi-well evaluations from a single installation, and provide the most comprehensive microseismic-based visualization and interpretation opportunity in the market. For more information, visit -- http://www.microseismic.com/.
Contact Information:
MicroSeismic CONTACT:
Kelly Weber
Director of New Media Marketing

713-443-9164