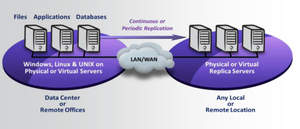 CA ARCserve Replication makes copying or migrating data between servers or locations a breeze for secure backups and disaster recovery - replacing tape.
BILLERICA, MA--(Marketwire - November 19, 2010) - Winchester Systems Inc., a leading data storage solutions provider, today announced an OEM agreement with CA Technologies (NASDAQ: CA) to bundle CA ARCserve® Replication with its storage and server products -- including FlashDisk® VX-2300 and VX-3400 disk arrays, EcoRAID ER-2300 disk arrays and EcoServer ES-2000 servers.
CA ARCserve Replication protects the availability of systems, applications and data for Windows, Linux and UNIX on both physical and virtual servers without the need for clustering architecture. It provides continuous application and data availability by performing host-based (VM/Guest) LAN and WAN replication between production servers and replica (failover) servers. It includes application-aware replication for Microsoft Exchange, SQL Server, Sharepoint, IIS, and Dynamics CRM -- as well as Oracle and Blackberry Enterprise Server. It can also be used with Windows, Linux and UNIX file servers.
"Many organizations have historically left themselves exposed to unacceptable business risks because they could not or would not shoulder the costs of true data replication," said Joel Leider, chief executive officer at Winchester Systems. "Thanks to our OEM agreement with CA Technologies, our customers can now implement this powerful and essential protection at little or no incremental cost -- radically reducing their vulnerability to the disastrous interruption of critical business activities."
"This OEM agreement extends a relationship with CA Technologies that began with XOsoft Corp.," said Jerry Namery, chief technology officer for Winchester Systems. "We are committed to leveraging the innovations of partners such as CA Technologies, whose technologies complement our own in ways that enable us to augment the value of the solutions we deliver to our customers."
A typical bundle that Winchester will deliver under the new OEM agreement would include a FlashDisk VX-2300 or FlashDisk VX-3400 disk array and two fully functional CA ARCserve Replication server licenses in a single package that starts at under $13,000. These arrays support SAS disks, Fibre Channel or SAS hosts and offer virtualized tiered storage up to 224 TB per disk array and deliver exceptional performance of up to 2,588 MB per second data throughput and 155,000 I/O operations per second.
"In today's information-based economy, the non-stop operation of critical systems has increasingly become an absolute must in terms of revenue, customer satisfaction and regulatory compliance," said Mike Crest, general manager of recovery management and data modeling, CA Technologies. "CA ARCserve Replication perfectly complements Winchester Systems' FlashDisk and EcoServer products to provide resource-strapped IT departments with a uniquely effective solution for meeting this availability assurance challenge."
About Winchester Systems Inc.
Winchester Systems provides high performance FlashDisk data storage plus servers and system integration services for VMware, Windows, Linux and UNIX platforms plus Windows, Linux and Oracle Clusters. Storage offerings include Direct Attached Storage (DAS), Network Attached Storage (NAS) and Storage Area Network (SAN) solutions for commercial, healthcare, government, military, security, surveillance and educational applications. These tiered storage solutions include iSCSI, SAS, SATA, SCSI and Fibre Channel RAID disk arrays. For more information visit: www.winsys.com.
Winchester Systems and FlashDisk are registered trademarks and EcoRAID and EcoServer are trademarks of Winchester Systems Inc. ARCserve is a registered trademark and XOsoft is a trademark of CA Technologies. All other trade names are trademarks of their respective owners.
Contact Information:
Contact:
Joel Leider
Chief Executive Officer
Winchester Systems Inc.
800-325-3700