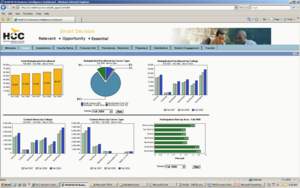 Houston Community College (HCC) developed an institutional dashboard in only two months using the Information Builders WebFOCUS platform.
NEW YORK, NY--(Marketwire - November 23, 2010) - Information Builders, an independent leader in business intelligence (BI) solutions, today announced that Houston Community College (HCC) developed an institutional dashboard in only two months using the Information Builders WebFOCUS platform, in conjunction with its consulting and education services. The solution not only meets immediate needs, but also provides a platform for future BI applications to enhance decision-making.
HCC wanted a dashboard solution that provided immediate value and worked with its infrastructure, including an Oracle data warehouse, Hyperion, and OBIEE technologies. Information Builders guaranteed results within two months, creating the academic dashboard very quickly with colorful and interactive graphs and charts that document and evaluate decisions, measure student enrollment, track student outcomes like transfer and job placement, and provide access to other key performance indicators. The solution was recently demonstrated to other schools during an Information Builders' Higher Education Virtual User Forum.
"The dashboard puts the information high-level administrators and key staff use for decision-making right at their fingertips," says Bill Carter, chief information officer at HCC. "We are particularly pleased at how fast Information Builders developed the solution and how well it works with our existing infrastructure. The technology is top-notch and so are Information Builders' people. Their consultants and educational staff understand our institution and requirements, and they worked together well with us to implement the dashboard in a guaranteed timeframe."
"Information Builders is very pleased to be working with Houston Community College," said Gerald Cohen, president and CEO of Information Builders. "No one knows better than those in higher education how important knowledge is to making good decisions. More and more higher education institutions are turning to business intelligence technology to provide knowledge about the day-to-day workings of the institution in order to contain costs, ensure accountability, and improve performance in measurable ways. We have designed our solutions to help them take steps that provide immediate value and solid, quantifiable gains."
About Houston Community College
Founded in 1971, the Houston Community College System (HCC) is composed of six colleges serving nearly 80,000 students each semester in the Houston and surrounding areas. HCC is an open-admission, public institution of higher learning offering associate degrees, certificates, academic preparation, workforce training, and lifelong learning opportunities that prepare individuals in our diverse communities for living and working in an increasingly international and technological society.
About Information Builders
Information Builders' award-winning combination of business intelligence and enterprise integration software has been providing innovative solutions to more than 12,000 customers for the past 30 years. WebFOCUS is the world's most widely utilized business intelligence platform. It provides the security, scalability, and flexibility needed at every level of global extended enterprises. Its simplicity helps create executive, analytical, and operational applications that reach dozens to millions of users. Information Builders' iWay Software suite provides state of the art, multi-purpose, pre-built integration components that address all SOA, application, data and information management requirements. Its integration adapters have been adopted by the leading software platform providers. Information Builders also offers solutions in the performance management, business activity monitoring, and enterprise search markets. The company's comprehensive enterprise product offerings give Information Builders' customers the ability to grow and innovate according to their needs.
Information Builders' customers include most of the Fortune 100 and U.S. federal government agencies. Headquartered in New York City with 90 offices worldwide, the company employs 1,450 people and has more than 350 business partners.
Contact Information:
Press Contacts:
Kathleen Moran
Information Builders
(917) 339-6313
kathleen_moran@ibi.com