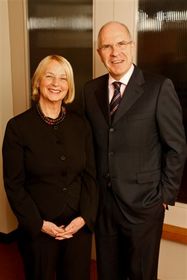 Lenore Cooney, Founder and Chairman of Cooney/Waters and Don Elgie, Chief Executive of Creston
NEW YORK, NY--(Marketwire - November 30, 2010) - Creston plc, the insight and communications group, today announces that the Board has entered into a conditional agreement to acquire substantially all of the assets and liabilities of both the healthcare public relations business, Cooney/Waters, and the healthcare advocacy business, Alembic Health Communications, Cooney/Waters' wholly owned subsidiary, for a cash-only consideration of up to £19.5 million ($30.8 million). The Acquisition is conditional, inter alia, upon the approval of Creston Shareholders.
Based in Manhattan, New York, and with a staff of approximately 50 people, Cooney/Waters and Alembic Health Communications (together the "Cooney/Waters Businesses") are specialist communications agencies with an exclusive focus on healthcare and pharmaceutical PR and health advocacy.
Consideration Highlights
The total cash consideration of up to £19.5 million ($30.8 million) is to consist of:

An initial consideration of £5.9 million ($9.4 million) payable on Closing; and

An additional earn-out consideration of up to a maximum £13.5 million ($21.4 million) payable in two instalments based on the averaged combined earnings before interest and tax of the Cooney/Waters Businesses for the periods from Closing to 31 March 2013 and 31 March 2015.

The Initial payment is to be funded from existing bank facilities, with future earn-out payments being funded by the Enlarged Group's future operating cash flows.
Cooney/Waters Highlights
Founded in 1992, Cooney/Waters is one of the highest ranked independent healthcare PR agencies in the US and, in April 2010, was named Healthcare Agency of the Year by the Holmes Report, a leading communications industry publication.

Founded and chaired by Lenore Cooney, Cooney/Waters has an experienced management team with long tenures of service, all of whom will remain with the company in the Enlarged Group.

Cooney/Waters has long standing relationships with its clients, which range from government enterprises to large pharmaceutical companies including Abbott Fund, Sanofi Pasteur and Coca-Cola Company.

Cooney/Waters has a strong cultural and strategic fit with Creston's healthcare PR agency, Red Door Communications, which provides similar services and expertise in the UK.

In 2008, the two companies founded the Health Collective Network, a multinational group of 10 specialist consultancies, which has led to a number of new business successes for both firms since formation.
Acquisition Benefits
The Directors believe that the acquisition will:
Enable the Cooney/Waters Businesses and Creston Health to share knowledge of and expertise on their respective markets in the US and the UK, allowing the Enlarged Group to benefit from enhanced capabilities in healthcare communications.

Provide the necessary scale required to compete more effectively for larger global briefs in healthcare communications.

Increase the profile of Creston Health in a consolidating industry where fewer, larger clients require both tailored, local solutions and global reach from their consultancies.

Create a stronger competitive advantage for Creston Health, leading to an increased level of new business opportunities and lead generation.
The Board expects the Acquisition to be earnings enhancing for the Enlarged Group in the first full financial year following Closing.
Don Elgie, Chief Executive of Creston, said:
"Cooney/Waters is an industry leading firm with an excellent track record and a blue-chip client list. We have been impressed by the way that Lenore Cooney and her team have built the Cooney/Waters Group, and their high levels of expertise and service delivery. Cooney/Waters' strong cultural and strategic fit with Red Door, our UK healthcare PR firm, will enable seamless integration with Creston, which will open up new opportunities for growth in the US and Europe."
Lenore Cooney, Founder and Chairman of Cooney/Waters, commented:
"The proposed acquisition by Creston represents the next stage of growth for the Cooney/Waters Group, enhancing our capabilities and bringing innovation to our clients' brands and organisations both in the US and internationally. This important step builds on our successful two year affiliation with Creston's Red Door Communications and offers strong synergistic and operational benefits both for Cooney/Waters and Creston."
The deal is subject to shareholder approval.
About Cooney/Waters Group
Cooney/Waters Group (www.cooneywaters.com) provides the full range of public relations and public affairs services to healthcare, pharmaceutical and biotechnology enterprises in the non-profit, government, academic and industrial sectors throughout the world. Named U.S. Healthcare Agency of the Year by The Holmes Report in April 2010, Cooney/Waters is focused exclusively on health and science across many therapeutic areas and health industries. Alembic Health Communications (www.alembichealth.com) is its wholly owned subsidiary specializing in healthcare advocacy programs.
About Creston Health
Creston Health is a division of Creston plc that brings together three of the best known and most established agencies in healthcare: PAN Advertising, Red Door Communications and Cooney/Waters, along with specialists in medical education -- ROCK Medical Communications, health advocacy at Alembic Health Communications, digital relationship marketing through tmwdigitalhealth, and the recently formed Intensity Digital Limited, a start-up agency targeting the rapidly growing market for integrated digital communications in healthcare.
About Creston plc
Creston (www.creston.com) is an insight and communications company for the 21st century, offering clients seamless access to the latest marketing insights and communications services. By working together, whether on research or as full-scale marketing partners, our companies continuously innovate to provide best-in-class counsel and service for our clients and people.
There will be a presentation for analysts at 8.30am at the offices of Investec Securities. Please contact Creston on 020 7930 9757 for details.
For further information, contact:
| | |
| --- | --- |
| Creston plc | Tel: 020 7930 9757 |
| Don Elgie, Chief Executive | |
| Barrie Brien, COO & CFO | |
| Sarah Macleod, Communications Director | |
| | |
| For Creston plc in the USA | |
| Samantha DiGennaro | +1 212 361 9170 |
| | |
| Investec | 020 7597 5120 |
| James Grace | |
| David Flin | |
| Carlton Nelson | |