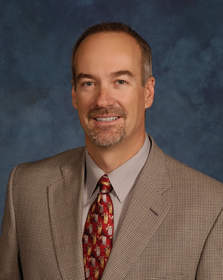 The Association of California Water Agencies presented its 2010 Emissary Award today to David Orth, general manager of Kings River Conservation District.
INDIAN WELLS, CA--(Marketwire - December 1, 2010) - The Association of California Water Agencies (ACWA) today presented its fifth annual Emissary Award to David Orth, a longtime water leader whose involvement with the association spans 25 years. Presented at ACWA's 2010 Fall Conference & Exhibition in Indian Wells, the award recognizes individuals for remarkable contributions to California water by supporting and advancing ACWA's goals.
"ACWA's Emissary Award is our way of paying tribute to the members who have guided this association and contributed to our successes over the years," said ACWA President Paul Kelley. "David Orth is a prime example of a member whose involvement has made a tremendous difference. We owe a debt of gratitude to David for his years of leadership and his unwavering support for ACWA and its statewide interests."
Orth, general manager of Kings River Conservation District, has a long record of participation and leadership in ACWA, particularly in the areas of groundwater and energy. He has been actively involved in developing and implementing solutions to critical issues at the local, regional, statewide and even federal levels.
Most recently, Orth has chaired a groundwater task force actively working to implement new requirements for groundwater elevation monitoring under the 2009 comprehensive water legislative package. The effort has involved significant outreach efforts, collaboration with state water officials and ongoing advocacy on behalf of ACWA's membership.
In addition to many years of service on ACWA's Board of Directors, Orth has served as chair or vice chair of ACWA's Federal Affairs Committee, Groundwater Committee, and Energy Committee. He was a founding member of ACWA's Outreach Task Force and served on the statewide task force that produced ACWA's landmark water policy Blueprint.
ACWA is a statewide association of public agencies whose 450 members are responsible for about 90% of the water delivered in California. For more information, visit www.acwa.com.
Contact Information:
Contact:
Jennifer Persike
ACWA Director of Strategic Coordination and Public Affairs
916/441-4545
916/296-3981 (cell)

Association of California Water Agencies
910 K Street, Suite 100
Sacramento, California
95814-3512
916/441-4545
FAX 916/441-7893
http://www.acwa.com