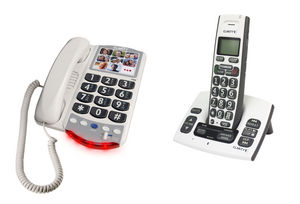 The Clarity P400 (left) and the Clarity D613 (right) amplified phones make ideal holiday gifts and are available at RadioShack stores nationwide.
CHATTANOOGA, TN--(Marketwire - December 1, 2010) - Every year, millions of "Happy holidays!" are missed due to the growing number of Americans with age-related health concerns, like hearing loss, arthritis, vision loss and memory loss, that make using a phone difficult. Clarity, a division of Plantronics (NYSE: PLT), a leading provider of communications solutions for seniors, is offering new amplified phones this holiday season that address these health challenges to help seniors reconnect with loved ones.
"There is no time of the year where phone calls are more important than the holidays," said Carsten Trads, president of Clarity. "We know millions of people struggle finding a phone that's right for them -- maybe it's too loud, not easy to hold or the screen isn't large enough. We've responded by offering a broad range of products that help seniors with multiple age-related health conditions, from varying degrees of hearing loss to low vision to limited mobility."
For easy holiday shopping, RadioShack stores nationwide carry Clarity products, including the D613 and P400. These phones and others available through RadioShack provide solutions for most any senior on your list.
For Mild to Moderate Hearing Loss, Low Vision & Arthritis
The cordless Clarity D613 phone uses Clarity Power™ to amplify incoming audio up to 30 decibels. The handset, recommended by the Arthritis Foundation for Ease-of-Use, is lightweight and includes large, easy-to-push buttons and ideal for those with limited mobility. Clarity is also the only brand of phone to receive the Ease-of-Use commendation from the Arthritis Foundation. The D613 is hearing aid and T-coil compatible and complies with TIA-1083 guidelines. All phone features are bold and easy-to-see for those with low vision.
The D613 incorporates a long list of features such as digital answering machine, caller ID, speakerphone, speed dial and a 30 name and number phonebook. It is also expandable, supporting up to five handsets that can also be used as intercoms.
Available online, at RadioShack and other retailers nationwide, the D613 is $89.95.
For Memory Loss, Limited Dexterity, & Mild to Moderate Hearing Loss
The desk or wall mountable corded P400 has 9 programmable one-touch PicturePerfect™ speed dial keys that display the picture of the person being dialed. For those with Alzheimer's or memory loss, face recognition of loved ones can be a simpler and dependable means of recalling who should be contacted.
The phone's extra large dial pad makes dialing easy for those with dexterity challenges and its reverse contrast is perfect for individuals with limited sight. Audio is amplified with Clarity Power to both boost sounds by 26 decibels, twice as loud as an average phone, and filter unwanted noises to make conversations easier. Built in are an extra loud ringer and visual ringer light. It is hearing aid compatible.
The P400 is also available online, at RadioShack and other retailers nationwide, and is $69.95.
For other options, visit the "Shop by Need" page at ClarityProducts.com to find the best solution so friends and family can reconnect this holiday.
About Clarity
Clarity® is a leading supplier of amplified telephones, notification systems, assistive listening devices and other communications devices for the hearing loss and deaf markets. A leader in sound amplification, Clarity's patented technologies, Clarity® Power™ and Digital Clarity Power™, provide customized solutions for customers who otherwise could not communicate easily and effectively with the outside world. As more people begin to address their hearing needs, Clarity will continue to provide effective technologies that are simple and easy to use. For more information about Clarity and its products, please call 1-800-426-3738 or visit www.clarityproducts.com.