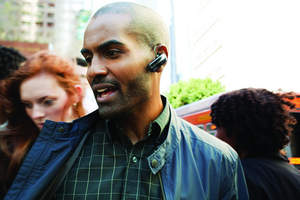 The Motorola Finiti makes a perfect gift for the multi-tasking traveler on your list; $129.99 available at AT & T and Sprint stores.
MISSION, KS--(Marketwire - December 6, 2010) - (Family Features) - Not sure what to get the busy mom on your list? Wish you could find the perfect teen gift that doesn't get the eye roll? Looking for something practical, but unexpected for the executive in your life? Here are a few smart gift ideas for the hard to buy for people on your gift list.
The Busy Mom
Speed Cleaning -- What busy mom likes to spend her precious time cleaning? Help her keep the house neat without lifting a finger with the new XV-11 Robotic All-Floor Vacuum System by Neato. The XV-11 cleans automatically so mom doesn't have to stress about vacuuming while maintaining a busy schedule. With a laser scanner built into the top of the vacuum that is used to scan the layout of your house and plot the most effective cleaning route, an easy-to-empty cleaning bin and an on-board LCD that lets you schedule cleanings for whenever you like, the XV-11 is a must for the busy mom on your list.
Listen Up Road Warriors -- The Motorola Roadster is a Bluetooth in-car speakerphone that blocks out background noise in the car better than other speakerphones with dual-mic noise cancellation, so mom can stay in touch and stay responsible on the road. This intuitive gadget even turns on when you enter the car and off when you leave, ensuring a total hands-free experience, while saving battery life. When a call comes in simply say "answer" or "ignore." It's the perfect gift for any multi-tasking mom on your gift list.
The Teen
Never Miss a Text -- The Motorola CommandOne is the device for the avid texter on your list. Perfect for your teen who never wants to miss a message, the CommandOne comes equipped with enhanced MotoSpeak 2.0 technology that allows the user to receive and reply to text messages hands-free. When they aren't talking or texting, the device also streams music, games and navigation directly into the headset.
Mix Things Up -- The UO DJ Mixer lets you combine music from two mp3 players to create your own unique sound using your favorite tracks. The mixer comes with a spin option, two effects programs, a cross-fade slider, recording option and speaker system connection so you can broadcast your creations wherever and whenever. A must for the music-loving teen in your family, the mixer also charges your device while it plays and is compatible with a microphone for extra fun.
The Executive
Save Time and Hassle -- The Wizcom Infoscan TS Elite is a hand-held scanning device and dictionary that allows you to scan, store, define, hear and transfer printed text to a PC. The mobile pen is capable of scanning up to 20,000 lines of text at a time and is ideal for the business man or woman who's looking for ways to save time transferring information from print to PC. This portable and affordable device makes a great gift for the executive in your life.
Hear and Be Heard Anywhere -- The Finiti from Motorola is a Bluetooth headset designed to keep you connected and heard in even the noisiest environments, comes equipped with three microphones for optimal noise and wind cancellation. The stealth mode microphone converts vocal vibrations to speech and eliminates noise in winds up to 40mph. When connected to the MotoSpeak App, texting is also hands-free. This headset makes the perfect gift for the always-on-the-go business man or woman in your life.