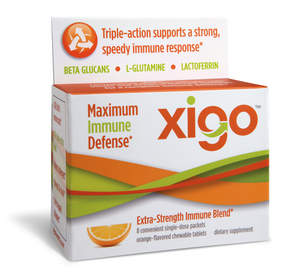 A recent survey showed 93 percent of KIWI magazine's Moms Meet Members would recommend Xigo Maximum Immune Defense to a friend.
MIAMI, FL--(Marketwire - December 7, 2010) - Xigo Health put its Maximum Immune Defense supplement to the test with more than 2,000 moms in major cities across the country participating in KIWI magazine's Moms Meet program. Hosted by natural and organic parenting publication, KIWI's Moms Meet (www.greenmomsmeet.com) empowers moms to come together and discuss tools for raising healthy families and living green, while offering candid feedback on natural products.
Moms were given a box of Xigo Maximum Immune Defense and instructed to use it when they felt rundown or an onset of a cold. Survey participants met two months after receiving the product and reported their experience. Ninety percent of moms said the dietary supplement was effective overall and 89 percent said Xigo reduced the severity of cold symptoms.
"We received an overwhelming, positive response about Xigo from our Moms Meet Mom Ambassadors," says Karen Gurwitz, director of Moms Meet and KIWI's chief mom ambassador. "Xigo scored high with moms on its effectiveness to prevent colds and reduce the severity of symptoms and duration of a cold."
Xigo (pronounced chee-go) Maximum Immune Defense contains 800 milligrams of a proprietary blend of beta-glucans, L-glutamine and lactoferrin in a chewable tablet designed for a quick immune response. The three ingredients in the patent-pending formula are designed to work with the immune system to detect, defend and deter against bacteria and viruses that have the potential to cause illness. The product is currently being tested in a double-blind, placebo-controlled clinical study to establish its effectiveness in the relief of symptoms from the common cold.
Seventy-two percent of the moms surveyed said Xigo tasted excellent or good. The chewable product was formulated for speed, allowing ingredients to absorb directly into the tissues of the mouth and throat, the first line of the body's immune defense. Natural sweeteners, stevia and flavorings are added for taste.
"The most impressive statistics from our survey showed 93 percent of KIWI's Moms Meet Members would recommend Xigo to a friend and 82 percent would buy the product," says Gurwitz. "This is powerful considering word-of-mouth is the strongest marketing tool for products geared towards moms."
Xigo Maximum Immune Defense was formulated as an extra-strength formula and can be used by adults or children. The product is available in natural health food stores and The Vitamin Shoppe (www.xigohealth.com).
Contact Information:
Media Contact:
Amy Summers
Pitch Inc.
813-335-1959