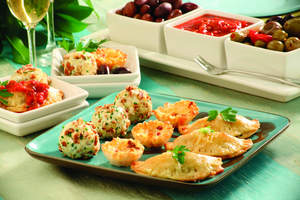 Mini Three-Cheese Balls, Petite Cheese Tarts and Mini Empanadas Baked Onion Dip and Two-Cheese Fingerling Crostini
MISSION, KS--(Marketwire - December 16, 2010) - (Family Features) Going to holiday parties is part of the fun of the season. Hosting a holiday soiree can be just as fun -- if you're prepared with some helpful hints and a buffet of scrumptious small-plate appetizers.
Setting the Scene
Creating seasonal sparkle at the table is easy and it doesn't have to be expensive. Look around at what you already have -- a pretty satin sheet can double as a tablecloth or be folded in thirds to become an elegant table runner. Add a few twists of gold or silver ribbon, some table glitter and greenery and you have a beautiful backdrop for your buffet.
Small plates are a chic -- and practical -- way to serve appetizers. They're easy for guests to carry and hold just the right amount. If you don't have enough, borrow some from friends and create an eclectic collection.
Tea lights, tapers, groups of pillars -- candles are a great way to create big ambiance on a small budget. Just be sure to use unscented candles around the table so they don't compete with the aroma of your food.
Choosing the Menu
Plan on a mix of hearty and light appetizers. These recipes take advantage of the versatile taste and texture of Jarlsberg cheese. A mild semi-soft cheese made from cow's milk, Jarlsberg has a buttery, rich texture with a mild, nutty flavor that lends itself to all kinds of flavorful bites.
Add in some spiced nuts, marinated olives, fruit and a decadent cheese plate, and you have a small-plate party with plenty of style.
For more recipes to make your holiday entertaining merry, visit www.norseland.com.
Cheese Plates 101
A good cheese plate is a simple, yet elegant addition to any party. Here are some tips to help you put together a terrific holiday cheese plate.
For the best flavor, take cheeses out of the refrigerator 30 to 45 minutes beforehand, leaving them wrapped until you're ready to serve.
Choose an interesting variety of cheeses. Pick 3 to 5 different cheeses with varied styles and different milks. Label each cheese by name, milk variety and country of origin.
Fruit helps amplify a cheese's sweetness. Include dried fruits such as cranberries, dates or figs, and fresh fruits like apples, pears, apricots or melon.
To pick up on cheese's salty notes, include olives, fruit chutneys, toasted nuts or cured meats such as salami or prosciutto.
In choosing breads or crackers to go with your cheese, make sure the flavors won't overpower the flavors of the cheese.
Get Started: Jarlsberg pairs well with fresh fruit, such as grapes, apple and pears, savory jellies, and pumpernickel bread.
Planning Portions
Appetizers
Evening party with no dinner: 10 to 15 pieces per person. Make sure your appetizers are on the substantial side, to satisfy guests.
Evening party with dinner following: 3 to 5 pieces per person, usually lighter fare such as cheese and vegetables.
Beverages
About 3 beverages per person. Guests drink an average of two drinks during the first hour and one drink each hour after that.
A 2-liter bottle of soda fills ten 8-ounce glasses.
Count on getting about 5 glasses of wine per standard 750 ml bottle, and 6 glasses of champagne from a standard bottle.
Baked Onion Dip
Makes: 2 cups
1
cup mayonnaise
1
cup chopped onion
Grated nutmeg, to taste
1
cup (4 ounces) shredded Jarlsberg
cheese
In a bowl, combine mayonnaise, onion and nutmeg; stir in cheese. Spoon into a 1 quart oven-proof dish and bake, uncovered, 325°F for 40 minutes or until lightly golden. Serve warm with flatbreads, cooked sausage, boiled mini potatoes and vegetable crudités.
Two-Cheese Fingerling Crostini
Yield: 15 to 20 pieces
1
pound baked Fingerling potatoes
(you can also use red or Yukon gold)
1
4-ounce log soft unripened goat cheese
1
cup coarsely grated Jarlsberg cheese
1
French baguette, 15 to 20 1/2-inch
slices brushed with olive oil and
toasted (10 minutes, 350°F oven)
Crumbled bacon bits and diced
chives for garnish
Mash baked potato with fresh unripened goat cheese and grated Jarlsberg. Place on bread toasts and top with cooked crumbled bacon bits. Warm crostini and, before serving, top with diced chives.
Mini Three-Cheese Balls
Yield: 24 to 30 balls
1
4-ounce log fresh goat cheese
6
ounces crumbled blue cheese
2
cups coarsely grated Jarlsberg
cheese
2
tablespoons grated onion
1/4
cup non fat plain yogurt
1/4
cup finely diced fresh chives, plus
extra for garnish
Dash hot sauce (optional)
1
cup slivered almonds or chopped
pecans
In a food processor, process cheeses with onion, yogurt and chives until well blended. If you'd like, add a dash of hot sauce. Shape into mini balls and roll in slivered almonds or chopped pecans and chives, or spread in serving dish and top with nuts/chives. Chill several hours or until ready to serve. Serve with flat breads, fresh vegetables, etc.
Tip: You can also mix nuts into cheese mixture and use to stuff cherry tomatoes and peppadews, sweet peppers or top cucumber rounds, mini party breads, etc. Chill several hours or until ready to serve.
Petite Cheese Tarts
Yield: 45 tarts
2
cups coarsely grated Jarlsberg
cheese
2
eggs, beaten
1
cup heavy cream
2
teaspoons Dijon mustard
1/2
teaspoon paprika
Ground white pepper
45
small phyllo shells
Cooked crumbled bacon
Heat oven to 350°F. Combine cheese, eggs and cream. Mix in mustard, paprika and pepper. Arrange phyllo shells on baking sheet. Use a small spoon to fill each cup three quarters full with mixture, top with crumbled bacon. Bake until mixture is golden brown in center, about 20 minutes.
Mini Empanadas
Yield: 20 empanadas
1
package refrigerated pie crust
Fillings:
Potato-Onion-Cheese
1 1/4
cups mashed potato
1/2
teaspoon cumin powder
1
4-ounce can diced green chilies,
not drained
1/2
teaspoon salt or to taste
3
to 4 cloves garlic, chopped
2
cups finely chopped cooked green
onions (white and green parts)
6
ounces Jarlsberg or Jarlsberg Lite
cheese, diced
Mix all ingredients together in a bowl. Set aside.
Chorizo-Chicken-Cheese
1 1/2
cups diced cooked chorizo
1 1/2
cups cooked chicken, shredded
or diced
2/3
cup mashed potatoes
6
ounces Jarlsberg or Jarlsberg Lite
cheese, diced
1/3
cup packed chopped parsley
(stems included)
Salt and pepper, to taste
Mix all ingredients together in a bowl. Set aside.
To make empanadas:
Preheat oven to 400°F. Unroll dough and cut out 20 4-inch rounds.
Place 2 tablespoons filling in center of each round. With wet fingers, moisten inside edges of dough and gently stretch over filling to make half moon shape. Using fork tines, crimp edges to seal. Bake empanadas on parchment-lined cookie sheet, about 14 to 16 minutes, or until light golden brown. Serve warm.