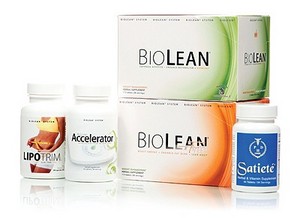 Wellness International Network's Weight Management Product Line
PLANO, TX--(Marketwire - December 17, 2010) - 'Tis the season for family, friends, feasts and overindulging in delicious holiday treats. This year tip the scales in the other direction with the help of Wellness International Network's weight-management products.
Wellness International Network's weight management product line -- BioLean®, BioLean Free®, Accelerator™, LipoTrim™ and Satieté® -- can provide the support needed to maintain and achieve the desired physique. This line is synergistically created to help curb cravings, stimulate the metabolism, reduce the storage of new fat, all while promoting increased energy, healthy blood-glucose levels and assisting with normal detoxification.*
Consumers around the world are already experiencing the trimming effects of Wellness International Network's weight management line. "In a month and a half I have gone from a size 8 to a 6! I can't wait to see how my body changes in the coming months," shares Femke from the Netherlands. "I have been on BioLean for three weeks and I have seen great results. I eat and exercise with the BioLean, and I feel great," says Shannon, a consumer in Texas. In California, Everest shares his results. "LipoTrim and Satieté definitely reduce my appetite and I don't eat as much or have the cravings like I used to." Hal from Kansas has also experienced exciting results. "I lost 31 pounds using BioLean with Accelerator in nine months," shares Hal.*
Research shows most people gain about a pound over the holidays. It also shows that people typically never lose that extra pound -- which can add up over the years. Health and nutrition experts agree that staying active and just having a little "taste" of the delicious holiday treats is the best plan to keep off unwanted weight. Wellness International Network's weight-management line can help support that plan with products geared to help increase energy and the metabolism while curbing cravings before they start. For those more interested in tackling weight loss with a New Year's resolution, Wellness International Network's products can help increase these efforts as well. Make 2011 a year of health and wellness!
*Weight loss varies with each individual depending upon a variety of factors. All testimonies in this publication may or may not be representative of the actual amount of weight which you can or will lose with our products. These statements have not been evaluated by the Food and Drug Administration. These products are not intended to diagnose, treat, cure, mitigate or prevent any specific disease or class of diseases.
About Wellness International Network, Ltd. (WIN)
A privately held company specializing in health and nutritional products, Wellness International Network, Ltd. is headquartered in Plano, Texas, with its European affiliate, WIN Worldwide BV, located in Hoofddorp, Holland. Its South African affiliate, Wellness International Network S.A. (Pty) Limited, is located in Johannesburg, South Africa, and WIN Worldwide Mexico S. de R.L. de C.V. is located in Nuevo León, México, and WIN Worldwide Australia Pty, Ltd. is located in Sydney, Australia. Founded in 1992 by Ralph Oats and his wife, Cathy, WIN operates in many countries throughout North America, Europe and Africa and Australia, and is far and away the forefront leader in global network marketing. Management Team 500 Magazine selected Wellness International Network as a Top 500 company two years in a row. WIN's complete nutritional line has been listed in the Physicians' Desk Reference® (PDR®) for Nonprescription Drugs and Dietary Supplements. In the Netherlands, WIN's products are listed in the Z-Index, a database of products associated with the public pharmacy, used by doctors, pharmacists, businesses and government. Serious athletes are delighted to learn that WIN Worldwide BV participates in the Netherlands Security System Nutritional Supplements Top Elite Sports [NZVT] system; for additional information click here. Learn more about why "It Pays to Live Well" at winltd.com.
Contact Information:
Contact:
Wellness International Network, Ltd.