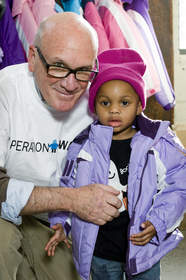 Richard Sanford, founder of Operation Warm, puts a new winter coat on a child at the annual Operation Brotherly Love holiday event sponsored by Operation Warm, the Yellow Brick Road Foundation, Wawa and Urban Outfitters. New winter coats were given to more than 500 needy children in the Philadelphia area during the four-hour holiday event on Dec. 18.
CHADDS FORD, PA--(Marketwire - December 22, 2010) - As America's rich-poor poverty gap continues to escalate, more children are literally being left in the cold. For 1 in 5 American children currently living in poverty, parents are forced to choose food and shelter over proper clothing every day. But a nationwide effort called Operation Warm plans to step-up efforts and clothe more children in need with new winter coats, covering its millionth child by the end of 2011.
"It's incomprehensible to me that we have children in our country unable to attend school because they don't have a warm coat," says Richard Sanford, founder of the nonprofit organization, Operation Warm. "By providing a new winter coat to these children, we are addressing an immediate need. The coats alleviate a major financial burden for parents and keep children in school where they are getting an education, a warm meal and heated shelter five days out of the week."
Sanford started Operation Warm in 1998, in his hometown of Chadds Ford, Pa., when he purchased 58 new coats for some local children who were coatless at a bus stop in freezing temperatures. That was the start of a national effort that has grown to the distribution of more than 800,000 coats across the country to date.
"A new winter coat provides more than just warmth, it also improves a child's self-esteem, value and acceptance among peers," says Sanford. "For most of the children we serve, an Operation Warm coat is their first piece of new clothing."
When Operation Warm started, Sanford purchased new coats from department stores, but within a few years, brought the entire manufacturing process in-house in order to cover more children. For a cash donation of $15, Operation Warm can manufacture a child's winter coat that would typically retail at $40.
Starting in 2011, Operation Warm will begin the process of moving its coat manufacturing business to the Western Hemisphere where it will partner with vendors and factories that share a common vision for sustainability.
"We are starting to make our children's coats from recycled materials to keep items like plastic bottles out of our landfills," says Sanford. "Our goal is to eventually have all of our coats manufactured with recycled materials."
The new coats are distributed through local community partners in each state including civic organizations, businesses, foundations and other philanthropic organizations. Operation Warm coats are often the catalyst for these community partners to develop a relationship with the families that help begin to break the cycle of poverty and give children a sense of belonging. Learn how to get involved at: www.operationwarm.org.
Contact Information:
Media Contact:
Amy Summers
813-335-1959

Pitch Inc.