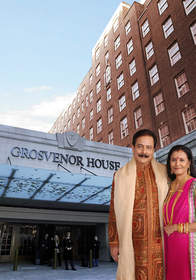 Sahara India Pariwar acquires the iconic hotel, Grosvenor House in London. The centerpiece for major expansion from Mr. Subroto Roy, Chairman Sahara Group.
LONDON--(Marketwire - January 4, 2011) - Sahara India Pariwar, the multi business conglomerate of India, today announced that it has acquired the most iconic hotel, Grosvenor House hotel from The Royal Bank of Scotland Group plc.
Grosvenor House, located in the prestigious locality of Park Lane in Mayfair, London, is an iconic landmark with 420 rooms, 74 suites, 27 meeting rooms providing an incredible 4,000 square meters of high quality space and also houses Europe's largest and most famous hotel banqueting space, the Great Room.
Sahara India Pariwar, a diversified Indian business conglomerate founded in 1978, has operations in multiple sectors including hospitality, tourism, city development, real estate activities, financial services, housing finance, mutual funds, life insurance, print and television media, film production, sports, information technology, healthcare, commodity sales & services and consumer products.
Acquisition of Grosvenor House presents a unique opportunity for Sahara India Pariwar to establish its foot-hold in the international luxury hotel market after having successfully proved its expertise in hospitality sector in India through Hotel Sahara Star and its luxurious 10,600 acres Aamby Valley City.
On this occasion Mr. Subrata Roy Sahara, Managing Worker & Chairman, Sahara Group, said, "We are extremely happy to announce Grosvenor House joining the Sahara family." He further said, "This acquisition is a part of the major expansion plans of the group. In addition to the acquisition of Grosvenor House, London will be the gateway for Sahara to introduce some of its new business ventures, internationally."
Note: The acquisition was brokered by Richard Lewczynski of Blandford Goldsmith.
Contact Information:
For Further Information, Please Contact:
Ghulam Zeeshan
Sr. Manager, Corporate Communications
Sahara India Pariwar
Ph.: 0522 2324852
Mobile: 9335235621
E-Mail: