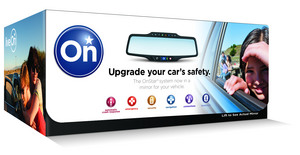 OnStar Retail Package Distributed Exclusively by Ingram Micro
LAS VEGAS, NV--(Marketwire - January 5, 2011) - CES, BOOTH #2420 -- Ingram Micro Inc. (NYSE: IM) today announced it has been selected as the exclusive master distributor for the new in-vehicle, retail product that enables OnStar's safety, security and connectivity services to be installed in cars already on the road.
The new product, which will be made available via retailers including Best Buy in Spring 2011, marks OnStar's first foray into the retail market and is a new offering supported by Ingram Micro's Consumer Electronics Division. The distributor also announced it will be registering new retailers for OnStar's Spring launch at CES in booth #2420 in the North Hall.
"Selecting the right distribution partner to help us successfully extend our brand and product into the retail market was a critical decision for OnStar and one we did not take lightly," says Greg Ross, OnStar Vice President, Business Extensions."The retail expertise that Ingram Micro brings to the table will prove to be extremely valuable as we expand into the retail market."
As the exclusive master distributor for OnStar, Ingram Micro is responsible for strategy, tactics and execution in a number of areas including distribution, logistics, merchandising support and other high-value services such as installation and technical support. Ingram Micro's role as master distributor is one of several core differentiators for the global distributor.
"Our proven ability to service consumer electronics and information technology vendors with the global logistics, supply chain, demand generation and marketing services to maximize business potential and efficiencies is unrivaled in the industry and one of several reasons OnStar selected us as their exclusive distribution partner," says John Soumbasakis, senior vice president, Specialty Solutions, Ingram Micro. "OnStar's technology provides an invaluable service to consumers and we are pleased to play such a strategic role within the company's expansion efforts."
Ingram Micro Plans to Sign New OnStar Retailers at CES
In conjunction with OnStar, Ingram Micro will be actively recruiting and signing new retailers at CES in Las Vegas. Retailers with an existing Ingram Micro relationship can work directly with their Ingram Micro sales representative for authorization to carry the new OnStar product.
Additional retailers interested in selling the OnStar retail product and service can visit Ingram Micro's OnStar website at www.ingrammicro.com/onstar; email OnStar@ingrammicro.com for more information; call (877) 733-6770 to set an appointment with Ingram Micro at CES in Las Vegas; or visit Ingram Micro at CES Booth #2420 in the North Hall.
For information about Ingram Micro, visit http://www.ingrammicro.com/.
Follow Ingram Micro on Twitter at www.twitter.com/IngramMicroInc.
About OnStar
OnStar, a wholly owned subsidiary of General Motors, is the leading provider of in-vehicle safety and security solutions, value-added mobility services and advanced communication technology. Currently available on more than 40 MY 2011 GM models, OnStar will soon be available for installation on most other vehicles already on the road through local electronics retailers, including Best Buy. OnStar safely connects its almost six million subscribers, in the U.S., Canada and China, in ways never thought possible. OnStar Stolen Vehicle Slowdown is a recipient of the 2010 Edison Award for Best New Product in the technology category. More information about OnStar can be found at www.onstar.com.
About the Ingram Micro Consumer Electronics Division
Ingram Micro's Consumer Electronics Division is a leading national distributor of consumer electronics products, solutions and services. With more than 30,000 retail and e-tail customers nationwide, it is headquartered in Scottsdale, AZ and serves customers through distribution centers strategically located across the U.S. The Division carries a portfolio of more than 20,000 consumer electronics products from more than 400 manufacturers and offers the widest assortment of IT products, as well as same day shipping for orders placed before 5:00 pm PST. Ingram Micro's Consumer Electronics Division is an active member of CEA, CEDIA, PMA, PARA, NAMM and APRO. For more information please visit www.imce.com, www.ingrammicro.com or call 800.733.6766.
About Ingram Micro
As a vital link in the technology value chain, Ingram Micro creates sales and profitability opportunities for vendors and resellers through unique marketing programs, outsourced logistics services, technical support, financial services and product aggregation and distribution. The company serves approximately 150 countries and is the only global broad-based IT distributor with operations in Asia. Visit www.ingrammicro.com.
Contact Information:
Press contact:

Marie Rourke
WhiteFox Marketing (for Ingram Micro)
(714) 292-2199