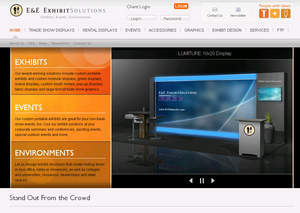 E & E Exhibit Solutions has launched a new corporate web site featuring more than 1,000 images of trade show displays and accessories.
TEMPE, AZ--(Marketwire - January 5, 2011) - E&E Exhibit Solutions is very happy to announce it has launched a new corporate web site, powered by the latest Internet technology featuring an updated user-interface and over 1,000 new images of trade show displays and accessories.
"We are ecstatic to launch the new E&E web site for the New Year. This updated site truly portrays the wide range of our custom exhibit designs and service capabilities, for not only the trade show industry but for corporate event marketing, as well," said Cynthia Chaddock, CFO/COO of E&E Exhibit Solutions. "Our site has evolved to meet the growing needs of our clients and prospects looking for unique displays and high-resolution trade show graphics for trade shows, corporate events, private conferences and seminars, retail environments, sports venues and universities -- anywhere marketers promote their products and services to a public."
The updated web site boasts a new pleasing page layout and well-organized, easy-to-follow navigation. Visitors to E&E Exhibit Solutions' web site can browse more than 1,000 images of custom portable exhibits, custom modular displays and custom displays by size, display type or event type. This wide selection also includes custom exhibit rental designs and trade show exhibits for purchase. "Our goal was to create a comprehensive, yet simple-to-use online tool for trade show and event marketers to find new ideas for their programs," said Danielle Schanke, marketing director at E&E Exhibit Solutions. "We are proud to have to an online presence that now matches the breadth of our products and services."
About E&E Exhibit Solutions
Founded in 1995, E&E Exhibit Solutions is a trade show display company specializing in custom modular displays, custom portable exhibits, trade show graphics and booth rentals. E&E Exhibit Solutions has a long-standing record of success serving more than 1,850 clients in 45 U.S. states and 15 countries and is recognized as a four-time Inc. 5000 honoree. As expert trade show professionals, our award-winning solutions include custom displays, exhibit rentals, trade show display graphics, shipping, installation and exhibit storage. For more information, visit www.ExhibitsUSA.com or www.RentExhibitsUSA.com.
Contact Information:
Media Contact:
Danielle Schanke
(480) 966-9873