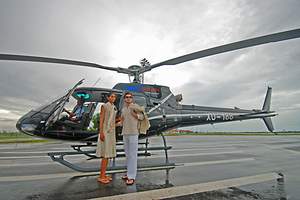 Raffles Grand Hotel d'Angkor Siem Reap's ultra-luxe Enchanting Escape Valentine's experience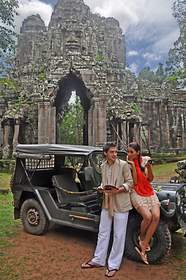 Reimagine the golden age of travel with a sightseeing trip in a 1950s Jeep
SIEM REAP, CAMBODIA--(Marketwire - January 5, 2011) - Raffles Grand Hotel d'Angkor Siem Reap redefines luxury with its 2011 Enchanting Escape Valentine's experience. This dreamy escapade includes a three-night stay in one of just two exquisite villas in the historical Raffles Grand Hotel d'Angkor's private gardens, endless pampering from the moment you arrive by our private butler service, unforgettable excursions to the cultural heart of Cambodia, and, dining in designer style at an intimate gala finale dressed by award-winning haute textile designer, Eric Raisina.
Ignite your passion for the finer things in life with an unforgettable sojourn in the mystical land of Angkor. The splendour of the ancient temples form a perfect backdrop to a carefully curated series of experiences designed to delight even the most well-travelled sophisticate.
Activities for a uniquely enchanting escape are:
A thirty-minute balloon ride with champagne and canapés, for a breathtaking perspective of the magnificent ancient temples;
Reimagining the golden age of travel with an adventure sightseeing trip in a 1950s Jeep, accompanied by a private guide imparting the legends and fables of Khmer kings;
Champagne breakfast in a jungle temple;
Rejuvenating Amrita Grand Indulgence with 3 hours 50 minutes of pampering, wellness treatments at the renowned RafflesAmrita Spa for him and her.
Arrive at Siem Reap International Airport in style, where a private butler awaits with champagne and chocolates and refreshments. A BMW stretch limousine whisks you away to the Raffles Grand Hotel d'Angkor, which since the 1930s has been the base for dignitaries visiting the temples of Angkor. Sensitively restored to statuesque splendour with all the conveniences of modernity, it remains the address of choice for connoisseurs of fine accommodation.
Slip into the comfort of personalised embroidered bathrobes which await at the villa, prepared especially for the occasion. The lavish welcome array of tropical fruits and well-chilled Billecart-Salmon Brut Rosé Champagne might best be enjoyed on the sprawling terrace with a view of the lush, tropical inner gardens and the swimming pool inspired by the royal baths of Angkor. Each villa has full pantry facilities and a private wine cellar.
To ensure this Valentine's is one never to be forgotten, a grand finale awaits. Gourmands will thrill to scrumptious delicacies presented during a romantic gala dinner prepared and served by the moonlit pool. The Raffles Grand Hotel d'Angkor will gift the lady-in-love with the exceptional present of an Eric Raisina dress, which would have been fitted the previous day. The Madagascar-born, Cambodian-based designer's stunning fashion and haute textiles have graced the runways of Yves Saint Laurent, Christian Lacroix and have been featured during New York Fashion week. Gentlemen will look cool in their new Panama, also presented with the hotel's compliments.
The Enchanting Escape package at the Raffles Grand Hotel d'Angkor is valid from 11 to 20 February 2011 and available at US$15,670+++ per couple.
ABOUT RAFFLES GRAND HOTEL D'ANGKOR
The elegant French period Raffles Grand Hotel d'Angkor is a sophisticated retreat only steps away from Siem Reap's bustling market and a mere eight kilometers from the Angkor Temple ruins. Distinguished as one of the grand hotels of Asia, it was originally built in 1932 and provided accommodation during the golden age of travel. Now restored, it has 120 guest rooms including four individually designed Personality Suites, six Cabana Suites and two Villa Suites set within the hotel gardens.
ABOUT RAFFLES HOTELS & RESORTS
Raffles Hotels & Resorts epitomises enchanting experiences, embodying global sophistication and residential charm, imbued with heartfelt service "like a gentle breeze". At Raffles, guests arrive as residents, leave as friends and return as family.
Raffles' relentless pursuit of service excellence has earned its hotels and resorts a legion of international accolades, including Condé Nast World's Best Places to Stay and Travel & Leisure World's Best Awards. Its flagship Raffles Hotel Singapore was voted Best Hotel in Asia for four consecutive years by readers of Ultratravel magazine by The Daily Telegraph while Raffles Beijing Hotel was named Best Luxury Hotel by Travel Weekly China in 2009. In addition, Raffles Hotels & Resorts is consistently ranked among the world's top 10 hotel brands in the annual Condé Nast Traveler Business Travel Awards.
Raffles Hotels & Resorts is owned by FRHI Holdings Ltd, a leading global hotel company with 98 hotels and resorts worldwide under the Raffles, Fairmont and Swissôtel brands. The company also manages Fairmont and Raffles branded residences, Estates and luxury private residence club properties. For more information, please visit www.raffles.com
Raffles Hotels & Resorts' award-winning collection of legendary hotels includes:
1. Raffles Hotel, Singapore
2. Raffles Grand Hotel d'Angkor, Siem Reap, Cambodia
3. Raffles Hotel Le Royal, Phnom Penh, Cambodia
4. Raffles Beijing Hotel, China
5. Raffles Dubai, United Arab Emirates
6. Raffles Tianjin, China
7. Raffles Makkah Palace, Saudi Arabia
8. Raffles Paris - Le Royal Monceau
Future Additions include:
1. Raffles Praslin, Seychelles
2. Raffles Makati, Philippines
3. Raffles Sanya, Qingshui Bay, China
4. Raffles Konottaa, Maldives
5. Raffles Jakarta, Indonesia