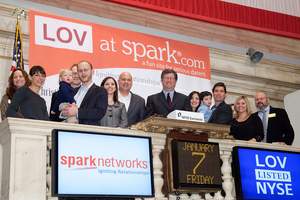 Adam Berger, CEO of Spark Networks, Inc. (NYSE Amex: LOV), along with several success stories, rang The Opening Bell at the New York Stock Exchange (NYSE) in celebration of JDate.com's B'nai Mitzvah.
BEVERLY HILLS, CA--(Marketwire - January 7, 2011) - Spark Networks (NYSE Amex: LOV), a leading provider of online personals services, visited the New York Stock Exchange to ring The Opening Bell(SM) today. Joined by JDate success story families, Chief Executive Officer Adam Berger's appearance on Wall Street marked the B'nai Mitzvah for the leading online community for Jewish singles.
To help celebrate the occasion, Spark Networks gave traders on the NYSE floor the gift of LOV in the form of subscriptions to JDate, ChristianMingle® (the world's largest and fastest growing online community for Christian singles), Spark®.com (Spark's mass-market, fun site for serious daters) or any of its other two dozen online dating communities.
To watch/ download video of the bell ringing, please visit: www.nyse.com/events/1294312648749.html
Photo/Video:
Photos available via Associated Press/New York (212.621.1902), Reuters America (646.223.6285) and Bloomberg Photo (212.617.3420). The Opening Bell (starting at 9:25 a.m.) feed is available via Ascent loop #4009. Media seeking footage via The Switch should contact NYSE Broadcast at 212.656.5483.
About Spark Networks
Spark Networks, Inc. (www.Spark.net) is one of the world's leading providers of online personals services. Spark Networks' shares trade on the NYSE Amex under the symbol "LOV" (NYSE Amex: LOV). The Spark Networks portfolio of consumer websites includes, among others, JDate.com (www.JDate.com), Spark.com (www.Spark.com), ChristianMingle.com (www.ChristianMingle.com), BlackSingles.com® (www.BlackSingles.com) and SingleSeniorsMeet™.com (www.singleseniorsmeet.com).
Contact Information:
Media Contact:
Arielle Schechtman
323-658-3000