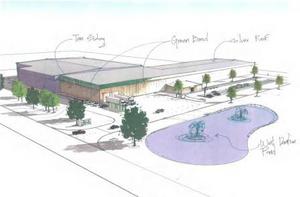 Architectural Rendering of Proposed Facility
OTTAWA, KS--(Marketwire - January 7, 2011) - Schuff Steel Company, a subsidiary of Schuff International, Inc. (PINKSHEETS: SHFK), a leading family of steel companies providing fully integrated steel construction services, is moving ahead with preparation of construction documents for a new wind tower manufacturing plant planned for Ottawa, Kansas. "We are currently building a first article prototype wind tower at our plant in Ottawa, Kansas and are pursuing opportunities for volume manufacturing of the tower," said Dennis Randall, executive vice president of Schuff's Midwest Division. According to Mr. Randall, "Volume manufacturing of this new type of wind tower would require construction of a new plant due to its uniqueness." Construction documents being prepared are for construction of a new 200,000 sq ft facility at Schuff's current location on Davis Road. Schuff anticipates potential employment levels of 200 to 250 people for the new facility once it is at full capacity.
Demand for the new tower is expected to develop in early 2012, giving Schuff plenty of time to build the plant if it can secure sufficient orders. Early preparation of construction documents is expected to aid in this effort.
Schuff had originally planned to build the plant in North Dakota, but changing market conditions and providing a location central to the wind belt were factors in the decision to relocate the planned facility.
About Schuff International, Inc.
Schuff International, Inc. (PINKSHEETS: SHFK) and its family of steel companies is the largest steel fabrication and erection company in the United States. The 35-year old company executes projects throughout the country as well as internationally. Schuff offers integrated steel construction services from a single source including design-build, design-assist, engineering, BIM participation, 3D steel modeling/detailing, fabrication, advanced field erection, joist and joist girder manufacturing, project management, and single-source steel management systems. Schuff International, Inc. employs approximately 1,200 people throughout the country. For more information, visit www.schuff.com.
Certain statements in this news release may contain forward-looking information within the meaning of the Private Securities Litigation Reform Act of 1995, and are subject to the safe harbor created by those rules. All statements, other than statements of fact, included in this release, including, without limitation, statements regarding potential future plans and objectives of the company are forward-looking statements that involve risks and uncertainties. There can be no assurance that such statements will prove to be accurate and actual results and future events could differ materially from those anticipated in such statements. These risks and uncertainties include, but are not limited to, the company's ability to successfully utilize any ARRA Section 48C Clean Energy Manufacturing Tax Credit, the ability to obtain financing and secure orders sufficient to justify the construction of a wind tower manufacturing facility and the company's successful entry into the wind energy sector. Further risks and uncertainties that may impact Schuff's entry into the wind energy sector, include, but are not limited to, the company's ability to successfully and timely complete construction projects; the company's ability to convert backlog into revenue; the potential delay, suspension, termination, or reduction in scope of construction projects; forecasted regional and end-market growth; the continuing validity of the underlying assumptions and estimates of total forecasted project revenues, costs and profits and project schedules; the outcomes of pending or future litigation, arbitration or other dispute resolution proceedings; the availability of borrowed funds on terms acceptable to the company; the ability to retain certain members of management; the ability to obtain surety bonds to secure its performance under certain construction contracts; possible labor disputes or work stoppages within the construction industry; the ability of project owners to obtain financing for projects; and actions taken or not taken by third parties, including the company's customers, suppliers, business partners, and competitors and legislative, regulatory, judicial and other governmental authorities and officials. The company cautions that these forward-looking statements are further qualified by other factors. The company undertakes no obligation to publicly update or revise any statements in this release, whether as a result of new information, future events or otherwise.
Contact Information:
MEDIA CONTACT:
Ann Papagalos
Papagalos Strategic Communications
P) (602) 279-2933, Ext. 105
C) (602) 702-0524
E-mail: