EYE adds network service visibility to Oracle Enterprise Manager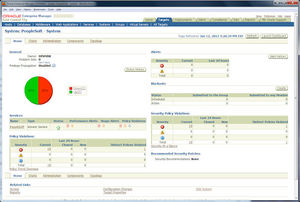 EYE keeps the network at optimum operation so enterprise applications are at maximum availability.
MARLBOROUGH, MA and LONDON--(Marketwire - January 18, 2011) -
News Facts
Entuity®, a leader in enterprise network management software, today announced it has achieved Oracle Validated Integration of its flagship product, Eye of the Storm (EYE) Enterprise 2011, with Oracle Enterprise Manager 11g. Entuity is a Gold level member of Oracle PartnerNetwork (OPN) and utilized the Oracle Enterprise Manager extensibility framework to deliver a network monitoring plug-in for Oracle Enterprise Manager. Using this plug-in, Oracle Enterprise Manager 11g customers can proactively monitor and assure application health by detecting potential network problems that may be affecting application service delivery.
EYE network management provides a top-down, segmented view of a network by grouping together physical and virtual network components that support a specific business function. The integration with Oracle Enterprise Manager enables a unique management platform spanning software, hardware and network elements, including Oracle Exadata Database Machine and Oracle Exalogic Elastic Cloud, and beyond. This powerful association allows enterprises to quickly detect network problems affecting application service delivery that are otherwise hidden from their view.
EYE pushes real-time network events, status information and metrics in an intelligent, filtered manner to the Oracle Enterprise Manage 11g console. The integration also includes a mechanism to drill back down into EYE in context, speeding incident resolution.
EYE Enterprise 2011 and the Entuity Eye of the Storm Network Manager Plug-in for Oracle Enterprise Manager 11g are available now from Entuity for the Oracle Solaris, Oracle VM Server for x86, Microsoft Hyper-V™ Server, Microsoft® Windows Server®, Red Hat® Enterprise Linux®, VMware® ESX and ESXi, and Citrix® XenServer® platforms.
Supporting Quotes
Quote, attributed to Kevin O'Brien, Senior Director, ISV and SaaS Strategy, Oracle
"The Oracle Validated Integration applies a rigorous technical review and test process. Achieving Oracle Validated Integration through Oracle PartnerNetwork gives our customers confidence that the integration between Entuity's EYE Enterprise 2011 and Oracle Enterprise Manager 11g have been validated and that the products work together as designed. This reduces risk and improves the implementation cycles for our joint customers."

Quote, attributed to Jim Frey, Research Director, Enterprise Management Associates
"Many organizations rely on Oracle Enterprise Manager for ensuring their systems and applications are configured properly and are operating to expectations. With this integration, Entuity adds a network infrastructure viewpoint and information source directly to the primary console in use by IT administrators. The result can be more efficient operations, shorter mean-time-to-repair, and improved opportunities for proactively assuring quality IT services."

Quote, attributed to Bojan Simic, Principle Analyst, Trac Research
"Organizations are becoming more interested in taking a unified approach for managing the performance of IT services that would allow them to have full visibility into how different infrastructure parts are impacting the quality of end-user experience. The integration with Entuity's EYE product adds a network management piece to application performance management and end-user experience monitoring, providing more visibility across different parts of the application delivery chain."

Quote, attributed to John McHugh, Vice President of Business Development and Alliances, Entuity
"Enterprises have advanced well beyond the foundational managing of individual pieces of technology. With intelligent cross-communication and integrations like that delivered by Eye of the Storm with Oracle Enterprise Manager 11g, silos fall, value is exposed and IT resources can be better coordinated and focused on advancing company goals."
Multimedia Elements
About Oracle PartnerNetwork
Oracle PartnerNetwork (OPN) Specialized is the latest version of Oracle's partner program that provides partners with tools to better develop, sell and implement Oracle solutions. OPN Specialized offers resources to train and support specialized knowledge of Oracle products and solutions and has evolved to recognize Oracle's growing product portfolio, partner base and business opportunity. Key to the latest enhancements to OPN is the ability for partners to differentiate through certified Specializations. Specializations are achieved through competency development, business results, expertise and proven success. To find out more, visit http://www.oracle.com/partners.
About Oracle Validated Integration
Oracle Validated Integration through Oracle PartnerNetwork gives customers confidence that integrations between Oracle Applications (and Oracle Enterprise Manager) and complementary partner capabilities have been validated and the products work together as designed. This can help reduce risk, improve system implementation cycles, and provide for smoother upgrades and simpler maintenance. Oracle Validated Integration applies a rigorous technical process to review the integrations of third-party software to Oracle Applications products, including productized repeatable integrations from system integrators. Oracle provides access to Oracle Applications software, tools, technical resources and training to assist partners in developing integrations based on Oracle standards and best practices. Partners who have successfully validated their integrations are authorized to use the "Oracle Validated Integration" logo. For more information, please visit Oracle.com at http://www.oracle.com/us/partnerships/solutions/index.html.
About Entuity
Entuity is the leader in next-generation, value-focused network management and service delivery solutions at price points to match a range of business models. The Company's line of Eye of the Storm (EYE) software automatically discovers, captures, correlates, and alerts on unrivalled network data and analytics. EYE's unique InSight Center™ Perspectives explicitly relate business value to help reduce operational and capital costs, reduce network downtime, achieve sustainability goals, commit to, deliver and prove service level commitments, ensure network configuration compliance, and optimize performance of private cloud environments.
Winner of numerous industry and business awards including the Network Products Guide 2010 Product Innovation Award for Network Management, EYE has been praised for its fast deployment, ease of use, and low cost of ownership. Entuity customers include enterprises, SIs, and MSPs such as ABB, Aptina, Astra Zeneca, BMC Software, CLS Services, DIRECTV, IBM Global Services, Perot Systems, Phones 4U, The Royal Bank of Scotland, SASSA, Sony, Visteon, and WorldPay. For more information on Entuity, please visit www.entuity.com or call +1.508.357.6346 (North America) or +44 (0) 20 7444 4800 (Europe).
Oracle and Java are registered trademarks of Oracle and/or its affiliates. Entuity and Eye of the Storm are registered trademarks and InSight Center is a trademark of Entuity, Ltd. All other marks and names mentioned herein may be trademarks or registered trademarks of their respective companies.
Contact Information:
Contact Information:
Kenneth Klapproth
Entuity
+1.508.357.6347