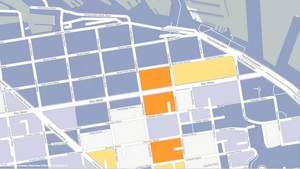 Data Analysis with Acetate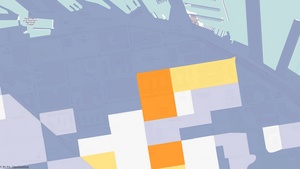 Data Analysis with Traditional Base Map
ARLINGTON, VA--(Marketwire - January 19, 2011) - FortiusOne, the leading location analysis software provider, today announced the release of GeoIQ Acetate, a custom base map built specifically for visualizing data analysis. Acetate adds context to the map by enabling users to layer infrastructure such as roads and place names on top of the data visualization, a capability not found in traditional mapping solutions. Acetate offers individual layers of map labels, roads, colors and typography, providing greater control of how data analysis is visualized on the map.
Through GeoIQ, FortiusOne allows enterprises, marketers and retailers to fuse together information from all data sources -- such as enterprise databases, social media and mobile applications -- and analyze the data with location as the common pivot point. Acetate is the latest feature to be built into GeoIQ and is also available to the GeoCommons community.
"Great maps layer data in a way that provides context and tells a story," said Sean Gorman, President and Founder, FortiusOne. "Acetate was specifically created for advanced data visualization which enables map makers to create better maps and allows users to understand what information is being conveyed."
Created in collaboration with Stamen Design, the FortiusOne team set out to contribute a new cartographic base map style for OpenStreetMap (OSM) data. OSM's data is one of the most widely used base layers for map creation across the globe.
"Acetate delivers a substantial missing component to the current mapping stack," said Michal Migurski, Partner, Director of Technology, Stamen Design. "Often when attempting to visualize multiple data layers for further analysis; the colors, labeling and topography on the base map create so much noise that the viewer misses out on seeing what the map is meant to represent. With Acetate, users can generate maps and easily provide context around dynamic data."
Developers may also use the open-source Acetate styles and library to integrate it into their own data visualization applications. See http://developer.geoiq.com/tools/acetate/ for more information.
About FortiusOne
FortiusOne provides location analytics software, GeoIQ, for real-time problem solving. GeoIQ is a complete data management, visualization, and analysis platform that enables intuitive exploration, sharing and collaboration around geospatial information. With GeoIQ, you can quickly and intuitively make intelligent, data-driven decisions with virtually no end-user training.
Contact Information:
Media Contacts:
LaunchSquad for FortiusOne
Mike Farber or Chantal LeBoulch
fortiusone [at] launchsquad [dot] com
617-872-0769