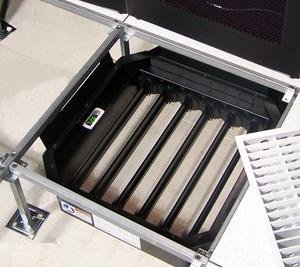 Tate's SmartAire variable-air-volume (VAV) damper is the recipient of a 'SearchDataCenter.com 2010 Products of the Year' Gold Award, which is the highest award available, in the infrastructure category.
JESSUP, MD--(Marketwire - January 24, 2011) - Tate®, a market leader in the design, manufacture and distribution of products for raised floor data centers, announces that its SmartAire™ variable-air-volume (VAV) damper is the recipient of a "SearchDataCenter.com 2010 Products of the Year" Gold Award, which is the highest award available, in the infrastructure category.
A panel of judges, including the SearchDataCenter.com editorial staff and a team of users, industry experts, analysts, and consultants, selected SmartAire from among a number of products submitted in the data center infrastructure category. The panel judged the products on innovation, performance, ease of integration with the environment, ease of use and manageability, functionality and value.
SmartAire was first introduced at the Data Center World trade show, Oct. 3-6, 2010, in Las Vegas. As part of Tate's In-Floor Cooling Product Suite, which includes DirectAire™ directional grates and PowerAire™ fan assist modules, SmartAire represents a cost-effective solution for directly matching cooling to the heat load in a high-density, diverse and variable-load raised floor data center environment. SmartAire variable-air-volume dampers are thermostatically controlled, effectively adjusting the amount of air passing through an individual DirectAire panel to meet the rack's specific cooling needs. Sensors mounted to the front of the rack control the damper and, consequently, the amount of airflow, maintaining the proper inlet air temperature on a rack-by-rack basis.
When used with a computer room air-handling (CRAH) unit equipped with a variable-speed fan, SmartAire can help data center managers save more than 40 percent in fan energy by eliminating over cooling of racks with variable utilization rates. When the damper closes, the underfloor static pressure will increase, signaling the CRAH unit to reduce fan speed and save energy.
The "2010 Products of the Year" awards represent the fifth year that SearchDataCenter.com has judged data center products. In addition to infrastructure, product categories included enterprise systems management software and server hardware.
For more information about Tate's new in-floor cooling devices and a white paper on data center cooling, please visit www.tateaccessfloors.com/infloor. For information about other Tate products and services, please visit www.tateaccessfloors.com or call (410) 799-4200.
ABOUT TATE®
Tate is headquartered south of Baltimore, in Jessup, Md., and is a member of the Kingspan Group of companies. Activities for Tate include research and development, manufacturing, sales, and distribution of raised access floors, with over 500 million square feet of underfloor service distribution systems installed. Tate products provide high performance and sustainable service distribution solutions in office, education, equipment/server, public space, laboratory, casinos and clean room facilities.
ABOUT SearchDataCenter.com
SearchDataCenter.com guides IT managers through the decision making and evaluation process they face when making key business choices for their corporate data centers. SearchDataCenter.com offers strategic and practical information on designing, maintaining, furnishing, staffing and running the enterprise data center, focusing on every aspect of the data center, including systems management, disaster recovery and backup, server consolidation strategies and more.
SearchDataCenter.com is part of the TechTarget network (www.techtarget.com). TechTarget publishes integrated media that enable information-technology (IT) marketers to reach targeted communities of IT professionals and executives in all phases of the technology decision-making and purchase process. Through its industry-leading Web sites, magazines and conferences, TechTarget delivers measurable results that help IT marketers generate qualified sales leads, shorten sales cycles and grow revenues.
Related Links:
Tate
http://www.tateaccessfloors.com/
SmartAire™
http://www.tateaccessfloors.com/products/airflow_infloor.aspx
data center
http://www.tateaccessfloors.com/applications/datacenter.aspx
DirectAire™
http://www.tateaccessfloors.com/products/airflow_infloor.aspx
PowerAire™
http://www.tateaccessfloors.com/products/airflow_infloor.aspx
Contact Information:
Media Contact:
Lacey Dean
Godfrey
(717) 393-3831
lldean@godfrey.com

Corporate Contact:
Scott Alwine
Tate
(410) 799-4790
scottalwine@tateaccessfloors.com