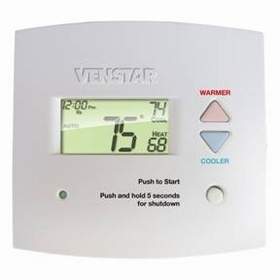 SchoolStat Thermostat by Venstar
CHATSWORTH, CA--(Marketwire - January 25, 2011) - Venstar®, a leading thermostat and energy management systems supplier, today announced the launch of SchoolStat™ Thermostat (Model T2900SCH), a commercial programmable specialty thermostat that helps schools go green while keeping classrooms comfortable.
"SchoolStat from Venstar helps school districts meet their goals of going green by saving on energy usage and costs," said Jeff Beck, PE, LEED AP, regional engineering manager for Florida Air Conditioning Distributors of Tampa, Fla. Beck is a specifying engineer for schools in Florida.
"With SchoolStat, school districts can ensure that their classrooms are comfortable during school hours, while saving energy after hours and on weekends. Because classroom schedules do change, such as for in-service meetings, parent-teacher conferences and other after-hours activities, teachers have the option of changing the thermostat to heat or cool the classroom as needed by overriding the energy savings mode," Beck added.
With 5+2-day programmability, SchoolStat can be programmed separately for weekdays and weekends, ensuring that the classroom is comfortable during the day. It can also be programmed with a pre-morning warm-up during winter months so that the classroom is up to temperature when school starts.
The thermostat helps reduce energy use and costs by automatically going into energy savings mode at the end of day and on weekends when the classroom is unoccupied.
Because classroom schedules vary, the thermostat can be manually placed in "Occupied" mode at the touch of a button. It will then stay in "Occupied" mode for up to four hours; each button press of the override button provides an additional 30-minute extension. When this time expires, the thermostat reverts to its normal programmed temperature for that day and time. At a touch of a button, the teacher can also put the thermostat back into energy savings mode. To make it easy, all thermostats have built-in instructions for use.
A keypad lockout with three security levels ensures that only authorized users can change the temperature. As well, SchoolStat is compatible with Venstar's lock ring for added security.
SchoolStat features include:
Energy-saving operation -- can be programmed to automatically go into energy savings mode after hours and on weekends when the classroom is unoccupied;
One-Press override -- allows personnel such as teachers to make immediate changes to the thermostat to warm or cool the classroom;
Unoccupied until button press -- energy savings mode stays in place until personnel touches a button to override the programmed schedule;
Setpoint-limiting security -- ensures that the thermostat cannot be set higher or lower than pre-set limits;
Separate weekend/weekday programs -- ensures that the classroom is at energy-savings temperatures when it is unoccupied and comfortable when it is occupied;
Morning warm-up period -- ensures the classroom is comfortable when teachers and students arrive;
One for all™ -- terminals on the backplate and Advanced Setup settings ensure that SchoolStat works with almost all types of HVAC equipment;
Non-volatile memory -- stores programmed settings on the microchip to ensure that time and day settings continue to advance for up to 12 hours after a power outage, so there's no need to reset time and day after a power loss;
Keypad lockout -- automatically locks the keyboard against unauthorized users;
3 security levels -- setpoint limiting prohibits mode changes and locks out the time period programming;
Remote sensor ready -- the thermostat can be programmed to control to an ACC0401 remote temperature sensor, if necessary; and
12-hour clock backup and economizer operation
SchoolStat is compatible with Venstar's EZ Programmer (Model ACC0432), which allows the installing technician to program only one SchoolStat and then quickly clone that programming to all other SchoolStat thermostats at the school.
Availability
SchoolStat is available through all Venstar distributors via a nationwide distribution network with thousands of contractors. For more information, visit: http://www.venstar.com/
Email: sales@venstar.com
Telephone: 818-812-9930
About Venstar Inc.
Founded in 1992, Venstar Inc. is a leading thermostat and energy management system (EMS) supplier, known for providing value to its customers via ease of use and installation, proven cost savings, improved energy efficiency, quality and reliability. Venstar is one of the largest thermostat suppliers in the world and designs and produces Venstar-branded products, as well as OEM thermostat products for the biggest names in HVAC. Venstar's Surveyor is a leading energy management system, typically saving small-box retailers 25 percent of their energy costs, which translates to millions of dollars in savings and dramatic reductions in C02 emissions. Surveyor currently controls the energy usage of more than 13,000 retail locations across the United States, Mexico, Puerto Rico, and Canada.
Web site: www.venstar.com
Contact Information:
PR Contacts:

Teri Sawyer
T&Co.
714-536-8407