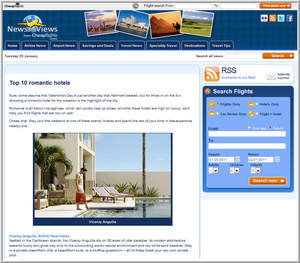 Blog post of Cheapflights.com's Top 10 Romantic Hotels around the world. As Valentine's Day quickly approaches, the editorial team at Cheapflights created this list to help those looking to woo their loved one. Whether whisking your lover to a villa in Tuscany or jetting off to a romantic getaway on an island paradise or simply a weekend getaway to New York City, romance is alive and this list is a guide to finding it.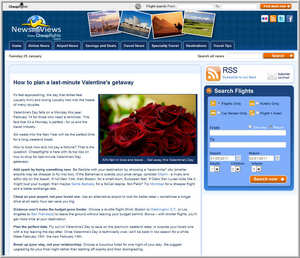 Blog post of Cheapflights.com guide on How to plan a last-minute Valentine's getaway. Although romance is all about indulgences, Cheapflights has pulled together some tips for how to book a last minute Valentine¿s getaway that fills the heart without emptying the wallet.
BOSTON, MA--(Marketwire - January 26, 2011) - Cheapflights.com, the online leader in finding and publishing travel deals, shows its softer side with its list of Top 10 Romantic Hotels around the world. With Valentine's Day in less than a month, the editors at Cheapflights have created this list of romantic hotels to offer ideas on where to take your loved one to show how much you care. And, although romance is all about indulgences, we've pulled together some tips for how to book a last minute Valentine's getaway that fills the heart without emptying the wallet.
Below are five of the Top 10 Romantic Hotels to make the list which are located a little closer to home:
Viceroy Anguilla, British West Indies -- Nestled in the Caribbean Islands, the Viceroy Anguilla sits on 35 acres of utter paradise. Its modern architecture screams luxury and gives way only to the surrounding exotic natural environment and two white-sand beaches. Stay in a private oceanfront villa, a beachfront suite, or a blufftop guestroom -- all of these boast your very own private pool. Search and compare cheap flights to Anguilla.
Le Chateau Frontenac, Québec -- Every cold winter night deserves a cozy room in a castle, so make your fairytale happen at the Fairmont's Le Chateau Frontenac in Québec. European charm makes this United Nations World Heritage Site a gem in historic Old Québec, and its turrets and grand architecture keep up the majestic atmosphere. Its elegant accommodations and regal décor make it easy to play romantic royalty for the weekend. Search and compare cheap flights to Québec.
Rosewood Mayakobá, Riviera Maya -- Mexico always knows how to bring the heat, and the Rosewood Mayakobá is no exception. The officially-described locale "where the ocean and jungle meet," is set on a 1,600-acre luxury resort on a mile of beach surrounded by the serene lagoons of Mexico's Yucatán Peninsula. Stay in a Lagoon Suite for your own private plunge pool, rooftop sundeck, bathroom with outdoor garden shower and views of the lagoons and mangroves. Here, romance is hard to ignore. Search and compare cheap flights to Cancun.
Hotel on Rivington, New York City -- This is a very different kind of scenery. Overlooking Manhattan, the Hotel on Rivington is all about views. From high up among the skyscrapers, rooms with floor-to-ceiling glass windows make privacy an edgy matter. The hotel gives guests unobstructed 360-degree views, and large rooms that boast glassed-in bathrooms with steam showers and Japanese-style soaking tubs. Book a high-floor corner king with a soaking tub to get the most luxury for the best rate. Search and compare cheap flights to New York.
Fairmont Orchid, Hawaii -- Most people don't need much persuading when it comes to understanding just how blissful Hawaii is, but oceanfront cabanas, waterfall massages and sandy lagoons are just a few reasons that the Fairmont Orchid makes Waimea all the more enticing. The "Make Room for Romance" option includes orchid petals, slippers, bath robes, Hawaiian bath crystals, floating candles, tropical massage lotion, champagne and strawberries to kick off your getaway. Search and compare cheap flights to Kailua Kona.
For those looking to take the romance on a bigger adventure with a trip overseas, the next five romantic hotels to make the list are found in Tuscany, Italy; St Tropez, France; Krabi Island, Thailand; Kangaroo Island, Australia and Sentosa Island, Singapore. To read the complete list of Cheapflights.com's Top 10 Most Romantic Hotels visit http://news.cheapflights.com/2011/01/top-10-romantic-hotels/
To keep the focus on fun and romance and not credit limits and cash outlays, try some of these cost-saving tips from our how to guide for planning a last-minute Valentine's getaway:
Plan the perfect date. Fly out on Valentine's Day to save on the premium weekend rates, or surprise your loved one with a trip leaving the day after. Once Valentine's Day is technically over, we'll be back in low season for a while. Make February 15th the new February 14th.
Cheat on your airport, not your loved one. Use an alternative airport to look for better rates -- sometimes a longer drive at an early hour can save you big.
Plan to be a VIP. Shop around in advance for reduced tickets on tourist attractions. See if your destination offers a tourist card (most European cities offer them) -- they are usually good for public transport and have discounts on museums, galleries and restaurants.
Love the one you're with. Fully embrace your destination -- and do it for as little money as possible. Charming old city? Take to the streets for culture and entertainment. Beach destination? There'll be no extras here surely, just the price of sunscreen. Check the tourist board websites to find accommodation discounts.
For the full guide, check out http://news.cheapflights.com/2011/01/how-to-plan-a-last-minute-valentines-getaway/.
About Cheapflights Media
Cheapflights Media is an international media network providing users with different ways to find low cost travel. Since 1996, Cheapflights Media has been helping consumers research, compare and save on domestic and international travel. Our flagship brand, Cheapflights, is one of the largest flight deals publishers, delivering over 4 million deals daily. With brand-name deals on airline tickets from more than 300 partners and 600 airlines and a team of travel experts hand picking the best offerings, Cheapflights offers visitors a mix of deals they can't find anywhere else. zugu, the newest brand in the Cheapflights Media portfolio, is a powerful and simple travel search engine that makes it easy to compare and select the lowest available fares online. By organizing flight options by date, airline and time, zugu helps consumers find the best fares based on their travel terms. There are currently Cheapflights-branded sites for the U.K., U.S., Canada, Germany, Australia & New Zealand, France, Italy and Spain. zugu is available in the U.K., U.S. and Germany. For more information, visit www.cheapflights.com.
Contact Information:
Contact Information:
Dalia Blumenthal
Publicist
Tel: +1 416-926-1967
Mobile: +1 416-788-4573
E-mail:
Web: www.cheapflights.com