Shane Co. charm builder features an easy three-step process for cutomizing the charm bracelet, earrings or necklace.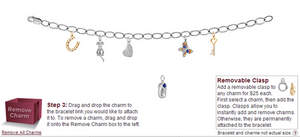 Shane Co. charm builder features easy-to-use drag-and-drop interface, allowing users to add the charm to the precise link of their choice.
Shane Co. charm builder allows users to add a gemstone of their choice to many of the charms providing even greater customization.
CENNTENNIAL, CO--(Marketwire - January 26, 2011) - Shane Co., the largest privately-held jeweler in the United States, has developed the word's first online charm jewelry customization platform that is compatible with touch-screen devices, including the iPhone the iPad. Shane Co.'s Charm Builder, exclusively at ShaneCo.com, allows users to select a style of bracelet, pendant or earrings, and then add and remove charms with a drag-and-drop interface. The finished charm jewelry can then be ordered directly on the website.
"For the first time, all online shoppers, including those with iPhones, iPads and other touch-screen devices, have a user-friendly, intuitive way to customize their own charm jewelry," said Tom Shane, owner of Shane Co. "Our Charm Builder also provides a superior shopping experience to that of any other online charm jewelry application. For example, our Charm Builder is the only one that allows users to customize many charms with their choice of gemstone; a diamond, a natural ruby, or a natural sapphire in traditional blue, Kentucky blue, ice blue, pink, lavender, green orange or yellow. Our Charm Builder lets customers see exactly what they are buying, both through our superior quality photography and by showing the charm jewelry in perfect scale. Customers can also place the charms on the precise links of their choice on the bracelet."
"All of our charms are exclusive to Shane Co., so customers know they are getting a unique product not available anywhere else," said Price Blanchard, Exec. V.P. of Merchandising for Shane Co. "Like all of our gold jewelry, our charms are nothing less than 14k white or yellow gold, whereas the charms at many other retailers are made from glass and other non-precious materials. Also, all of our gemstones are natural. We do not sell lab-created stones."
The Charm Builder was designed and developed by Shane Co.'s in-house Web Development team, lead by the technical expertise of Shane Co.'s eStore Developer, Jamison Young.
About Shane Co.
Shane Co. is the largest privately-held jeweler in the United States. The Centennial, Colo.-based company is a direct importer of diamonds, rubies, sapphires and pearls, and operates 20 stores in 13 states, as well as an online store at www.ShaneCo.com. Shane Co. is recognized in the industry as a price leader offering the finest array of customer benefits, including a free lifetime warranty and a 60-day unconditional refund or exchange guarantee.
Shane Co. on Facebook, Shane Co. on Twitter
Contact Information:
CONTACT:
Price Blanchard
Shane Co.
Phone: 303-792-3500